Granite AppGuard Announces the Launch of Its Patented, Proven and Award Winning Anti-Malware Solution
Press Release
-
updated: Oct 5, 2017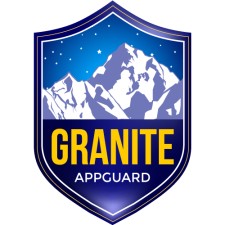 DALLAS, October 5, 2017 (Newswire.com) - Granite AppGuard, in partnership with AppGuard LLC, a Blue Planet-works company, today announced the launch of Granite AppGuard, a personal and small business version of Blue Planet-work's patented, proven, award-winning anti-malware solution, for an annual subscription price of $29.95 per year. Granite AppGuard is a patented, proven anti-malware solution that Government Security News has awarded the Homeland Security Award for the Best Anti-Malware Platform for three consecutive years — 2014, 2015 and 2016.  In addition, the anti-malware solution has been recognized by American Security Today and the US Army has granted it a Certificated of Net Worthiness for 2017.    
Mark Stachiw, Granite AppGuard's CEO and a successful serial entrepreneur, said, "The growing menace of cyber-attacks and ransomware is not limited to large corporations. Small business and individuals need to protect their sensitive information as well and many of the solutions in the market today fall woefully short.  With Granite AppGuard, we are launching the most comprehensive, user-friendly anti-malware protection solution in the market today in conjunction with National Cybersecurity Awareness Month." 
Stachiw added "I have been looking for a solution for some time that stops today's malware and ransomware attacks  and we partnered with Blue Plant-works to introduce Granite AppGuard, a cost-effective consumer and small business version of this patented, proven and award-winning anti-malware solution that protects users against the threats of today." 
Mike Fumai, President and Chief Operating Officer for AppGuard LLC said, "We have looked for partners to launch our patented, proven, award-winning anti-malware software solution to consumers and small businesses.  We have chosen Granite AppGuard as a partner because of the extensive background of its founder with consumer products and growing businesses.  We are excited about the launch of this unique, patented, proven, and award-winning anti-malware software solution through Granite AppGuard."
What separates Granite AppGuard' s awarding patented, proven, and winning technology is that it stops known and unknown threats before they can corrupt your system. Using its patented process protection application, Granite AppGuard does not try to identify malware; it recognizes when your computer or system is trying to do something that is not consistent with the application you are using and immediately stops the threat without shutting down your computer or system. 
This software has been utilized for the past several years on over a hundred thousand high-risk computers and has stopped millions of threats including the notorious WannaCry ransomware virus that infected hundreds of thousands of systems and cost business an estimated $5 billion dollars. 
We are now offering Granite AppGuard for consumers and small business for an annual subscription of only $29.95 per year per computer. To learn more about the Granite AppGuard and to subscribe and download our award-winning software, please visit our website at Graniteappguard.com.
About Granite AppGuard
Granite AppGuard was founded to bring Granite AppGuard, a patented, proven, award-winning anti-malware solution, directly to the public. Headed by Mark Stachiw, an experienced entrepreneur, and senior executive, he previously served as Vice Chairman of MetroPCS and of several other publicly traded companies, or of divisions of public traded companies, as well as the founder of several technology start-up companies. Mark is currently a Managing Partner, General Counsel and Secretary of Artic Partners, a boutique equity firm headquartered in Dallas, Texas.  Mark is also currently a member of the Board of Advisors of several other technology start-ups. 
About AppGuard LLC
Chantilly, Va.-based AppGuard, LLC is a subsidiary of Blue Planet-works, Inc., a Japan-based Global Cyber Security Company.  AppGuard provides award-winning endpoint cybersecurity protection for individuals, small business and enterprises. Its patented runtime prevention through dynamic isolation solution focuses on isolation and containment, memory protection, malware execution prevention, and application control. For more information, visit: www.appguard.us
About Blue Planet-works, Inc.
Blue Planet-works, Inc. is a Tokyo, Japan-based Global Cyber Security Company.  Delivering more than Security, the company offers "Safety ", "Trust" and "Privacy protection" with its innovative patented solutions for all connected systems. The innovative AppGuard® Security framework provides "Security to Safety" for PCs, Servers, Connected Vehicles, Smart Phones, and IoT devices. For more information, please visit our website http://www.blueplanet-works.com or contact us at info@blueplanet-works.com.
For more information contact:
Name:  Dennis Stoutenburgh
Phone:  214.613.0417
Email:   dennis@socialstrategy1.com
Name: Kathleen Kintz
Phone:  972.665.3016
Email:   kat@socialstrategy1.com
Source: Granite AppGuard
Share:
---
Categories: Computers and Software, Computer Software, IT Security, Personal Computers, Business News
Tags: anti-malware, anti-ransomware, cyber security, data security, malware, ransomware
---