GRANA Announces Honest Approach to Retail's Best Kept, Worst Secret - Pricing Tactics
Press Release
•
updated: Nov 22, 2016
e-Commerce start-up continues commitment towards brand transparency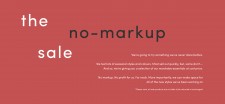 New York, NY, November 22, 2016 (Newswire.com) - International e-Commerce fashion start-up GRANA, committed to designing quality wardrobe essentials at only a 2-3 times markup, is launching its No-markup sale on www.grana.com starting 22 November offering US customers a selection of its wardrobe essentials at cost price. Mongolian cashmere starting US $45 (originally US$ 99), Chinese silk tops from US$14 and Peruvian Pima essentials at US$7.
"The no-markup sale is a unique approach to stay honest with our customers. When I started the company two-years ago, the vision was to disrupt the inefficient practices in the fashion industry with high markups and make quality accessible to everyone. I developed our direct-to-consumer business model to play an active part in the minimalist movement towards high quality basics at affordable prices," said Luke Grana, Founder & CEO at GRANA.
While the Initiative aims to accommodate for the arrival of new styles, customers can own quality essentials without deceptive pricing tactics – just quality basics at an honest cost price. No additional reductions or profit for the business.
Luke adds, "The no-markup sale is not a new chapter for us, as we make it possible to have the most accessible prices for luxury basics all year round but it's our nifty solution to a little overcrowding to make room for new essentials. I'm proud of our collection and over the last two years, we've experimented with new styles and colours, the reality is we made too many of some. I don't agree with confused messages with 'big blowout sales' or inflating original prices to make sales look like a greater bargain, it's just not our way."
The No-markup sale starts on 22 November 2016 until stock lasts: www.grana.com/women/no-mark-up-sale.html | www.grana.com/men/no-mark-up-sale.html
GRANA ships to 12 countries within two days including Australia, United States, Singapore, Hong Kong, Belgium, France, Germany, Italy, Netherlands, New Zealand, Spain and United Kingdom.
About GRANA
GRANA is a direct-to-consumer e-Commerce brand designing wardrobe essentials in-house, using the finest fabrics from around the world, available at honest prices. www.grana.com
Strategically headquartered in Hong Kong, GRANA was founded by Luke Grana and Pieter Paul Wittgen in October 2014. The start-up has raised US$16 million in funding from 500 Startups, Alibaba's Hong Kong Entrepreneurs Fund, Golden Gate Ventures and MindWorks Ventures. ​
Media Contact:
Amanda Do, PRM Asia Pacific at GRANA
amanda@grana.com
+852 6323 1877
Source: GRANA Group Limited