GRAMMY-Nominee Seth Glier Premieres New Single and Pledge Campaign
Press Release
•
updated: Jun 28, 2017
Announces New Album BIRDS Due August 25th --- Premiere Of First Single "I'm Still Looking" Exclusively Via Glide Magazine --- Pledge Music Campaign Launch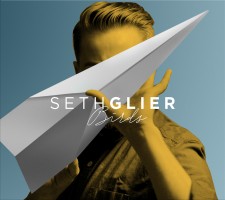 New York, NY, June 28, 2017 (Newswire.com) - GRAMMY®-nominated singer/songwriter Seth Glier has released a performance video of his new track "I'm Still Looking" which premiered exclusively via Glide Magazine and also launched his Pledge Music campaign in support of his forthcoming new album, Birds. Seth says "I wrote 'I'm Still Looking' a few months after my brother passed away and I kept witnessing things that reminded me of him. It's difficult to tell whether these "signs" were sent down for me to receive or just stuff happening all the time. Death has a way of making us pay attention to life and I've found that there is much more beauty and magic in simply looking without the quest for meaning."
On August 25, 2017, Seth will release Birds the follow up to his 2015 critically acclaimed If I Could Change One Thing. In early 2016, Seth gave a TEDx Talk in which he discussed how gratitude is not a state of peace for arrival, but a bitter battle for balance and reason. This was inspired after losing his brother Jamie to severe autism and led to the start of the writing of Birds. In keeping with matters close to his heart, Seth also tackles a few social issues on Birds. "Water on Fire" tears into fracking while "Justice For All" challenges the death penalty. A powerful, primal cover of the Buffalo Springfield classic "For What It's Worth" rounds out the collection. Fans can pre-order the album on iTunes and stream "I'm Still Looking" on Spotify now.
"I wrote 'I'm Still Looking' a few months after my brother passed away and I kept witnessing things that reminded me of him. It's difficult to tell whether these "signs" were sent down for me to receive or just stuff happening all the time. Death has a way of making us pay attention to life and I've found that there is much more beauty and magic in simply looking without the quest for meaning."

Seth, Glier
The artist will be hitting the road for a headlining U.S. tour kicking off at the Kerrville Fall Festival in Kerrville, TX. Seth will be making stops in these major cities: New York, Philadelphia, Boston and Chicago. Full tour routing can be found below and on Seth's tour page.
Additionally, Seth and MPress Records have collaborated with Pledge Music to officially launch the pre-order campaign for Birds. Fans will be able to access uniquely branded experiences and Pledge-only exclusives with each pre-order of the album. Pledge will also be hosting Seth at their NYC offices for a Pledge Music Session performance this July in support of the campaign.
PRE-ORDER BIRDS ON PLEDGE MUSIC: http://www.pledgemusic.com/projects/birds
SETH WILL BE IN NYC AND AVAILABLE FOR PRESS JUNE 26 – 28 & JULY 17-18
www.sethglier.com
www.facebook.com/sethgliermusic
www.twitter.com/sethglier
www.instagram.com/sethglier
TOUR DATES
Sept 1-3 - Kerrville, TX - Kerrville Fall Festival
Sept 10 - Spring Lake, MI - Courtyard Concerts
Sept 21 - Easton, MD - Avalon Theater
Sept 22 - Bay Shore, NY - Boulton Center
Sept 24 - Philadelphia, PA - World Cafe Live
Sept 29 - Portsmouth, NH - The Music Hall Loft
Sept 30 - Concord, NH - Spotlight Cafe - Capitol Center For The Arts
Oct 13 - Rockland, ME - The Strand Theatre
Oct 15 - Rockville, MD - Focus Music
Oct 20 - Waynesboro, VA - Wayne Theatre
Oct 21 - Asheville, NC - Isis Music Hall
Oct 25 - Worthington, OH - Natalie's
Oct 28 - Chicago, IL - Old Town School of Folk Music
Oct 29 - Marshfield, WI - Vox Concert Series
Nov 1 - Carbondale, CO - Steve's Guitars
Nov 3 - Denver, CO - Walnut Room
Nov 4 - Aspen, CO - Wheeler Opera House
Nov 5 - Pueblo, CO - Brues Alehouse Brewing Company
Nov 8 - Tulsa, OK - Woody Guthrie Center
Nov 9 - Oklahoma City, OK - The Blue Door
Nov 11 - Austin, TX - Cactus Café
Nov 12 - Houston, TX - Midtown Arts & Theatre Center
Nov 16 - Boston, MA - Club Passim
Nov 19 - Portland, ME - One Longfellow Square
Nov 25 - Pomfret, CT - Vanilla Bean Café
Nov 26 - Saratoga Springs, NY - Caffe Lena
Nov 29 - Lancaster, PA - Tellus 360
Nov 30 - New York, NY - Rockwood Music Hall
Dec 1 - Northampton, MA - Iron Horse Music Hall
Dec 2 - Northampton, MA - Iron Horse Music Hall
Dec 28 - Ann Arbor, MI - The Ark
PREVIOUSLY ANNOUNCED DATES
July 1 - Boothbay Harbor, ME - Opera House of Boothbay Harbor
July 8-9 - New Bedford, MA - New Bedford Folk Festival
July 15 - Okemah, OK - Woody Guthrie Folk Festival
July 28 - Great Barrington, MA - Guthrie Center
July 29 - Great Barrington, MA - Guthrie Center
PRESS CONTACT: PRESS HERE PUBLICITY
Heidi Anne-Noel / Amal Mokhtar / 212.246.2640
heidi@pressherepublicity.com / amal@pressherepublicity.com
LABEL CONTACT: MPRESS RECORDS
Tiina Teal / 212.481.7243
tiina@mpressrecords.com
MANAGEMENT: INVASION GROUP
Greg DeVito / 212.414.0505
greg@invasiongroup.com
Source: MPress Records
Related Media
Additional Links