GRAMMY-Nominated Seth Glier Releases New Album, RELIX Video Premiere
Press Release
•
updated: Aug 29, 2017
Seth Glier's new, critically acclaimed album "Birds" is out now. Relix Magazine is premiering the official video for his song, "Sunshine."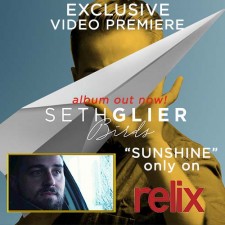 NEW YORK, August 29, 2017 (Newswire.com) - GRAMMY®-nominated singer/songwriter Seth Glier's latest studio album Birds is out now. The collection includes Glier's intensely powerful version of the Buffalo Springfield/Stephen Stills classic "For What It's Worth", the anti-fracking song "Water On Fire" and his poignant ballad "I'm Still Looking."
Birds is available for streaming and purchase on iTunes, as well as via Pledge Music. Fans will be able to access uniquely branded experiences and exclusives with each order of the album, available on Pledge until Sept. 5. Click here for more information.
Glier is back with a new album titled 'Birds' that is stunning from start to finish.

Huffington Post
To celebrate the release of Birds, Seth is debuting his official music video for the album's opening track, "Sunshine." Click here to watch exclusively via Relix.
"I wrote 'Sunshine' while living out of a storage unit for about a year," says Seth. "I was in the middle of a lot of things; an apartment, a relationship, and my parents were in the middle of a divorce. My piano was the last thing I loaded into the storage unit so I could just open up the door and practice when I needed to. 'Sunshine' was written to an audience of cardboard boxes in a 5x8. Practicing, and therapy, got me through that time."
Seth will be hitting the road for a headlining U.S. tour kicking off at the Kerrville Fall Festival in Kerrville, Texas, in support of Birds. He will be making stops in these major cities: New York, Philadelphia, Boston and Chicago. Full tour routing can be found below. Click here for more information.
BIRDS TRACK LISTING:
1. Sunshine
2. Water On Fire
3. Birds
4. Just Because I Can
5. People Like Us
6. Like I Do
7. For What It's Worth
8. Too Much Water
9. Justice For All
10. Hasn't Hit Me Yet
11. I'm Still Looking
"Glier is back with a new album titled 'Birds' that is stunning from start to finish."
--Huffington Post
"...it's hard to deny the fact that his lush arrangements are...what makes "Birds" soar beyond momentary ear candy and into the realms of mystique"
--Paste Magazine
"Seth Glier has hit his stride with this particular collection...recommended"
--Popdose
TOUR DATES :
Sept. 1-3 - Kerrville, TX - Kerrville Fall Festival
Sept. 7 - Fall River, MA - Narrows Center For The Arts Sept. 10 - Spring Lake, MI - Courtyard Concerts
Sept. 21 - Easton, MD - Avalon Theater
Sept. 22 - Bay Shore, NY - Boulton Center
Sept. 24 - Philadelphia, PA - World Cafe Live
Sept. 29 - Portsmouth, NH - The Music Hall Loft
Sept. 30 - Concord, NH - Spotlight Cafe - Capitol Center For The Arts
Oct. 13 - Rockland, ME - The Strand Theatre
Oct. 15 - Rockville, MD - Focus Music
Oct. 18 - Nashville, TN - The Country
Oct. 19 - Winchester, VA - Sweet Nola's
Oct. 20 - Waynesboro, VA - Wayne Theater
Oct. 21 - Asheville, NC - Isis Music Hall
Oct. 25 - Worthington, OH - Natalie's
Oct. 28 - Chicago, IL - Old Town School of Folk Music
Oct. 29 - Marshfield, WI - Vox Concert Series
Nov. 1 - Carbondale, CO - Steve's Guitars
Nov. 2 - Fort Collins, CO - Fort Collins Downtown Artery
Nov. 3 - Denver, CO - Walnut Room
Nov. 4 - Aspen, CO - Wheeler Opera House
Nov. 5 - Pueblo, CO - Brues Alehouse Brewing Company
Nov. 8 - Tulsa, OK - Woody Guthrie Center
Nov. 9 - Oklahoma City, OK - The Blue Door
Nov. 11 - Austin, TX - Cactus Café
Nov. 12 - Houston, TX - Midtown Arts & Theatre Center
Nov. 16 - Boston, MA - Club Passim
Nov. 19 - Portland, ME - One Longfellow Square
Nov. 25 - Pomfret, CT - Vanilla Bean Café
Nov. 26 - Saratoga Springs, NY - Caffe Lena
Nov. 29 - Lancaster, PA - Tellus 360
Nov. 30 - New York, NY - Rockwood Music Hall
Dec. 1 - Northampton, MA - Iron Horse Music Hall
Dec. 2 - Northampton, MA - Iron Horse Music Hall
Dec. 28 - Ann Arbor, MI - The Ark
FOR MORE ON SETH GLIER:
www.sethglier.com
www.facebook.com/sethgliermusic
www.twitter.com/sethglier
www.instagram.com/sethglier
PRESS CONTACT: PRESS HERE PUBLICITY
Heidi Anne-Noel / Amal Mokhtar / 212.246.2640
heidi@pressherepublicity.com / amal@pressherepublicity.com
LABEL CONTACT: MPRESS RECORDS
Tiina Teal / 212.481.7243
tiina@mpressrecords.com
MANAGEMENT: INVASION GROUP
Greg DeVito / 212.414.0505
greg@invasiongroup.com
Source: MPress Records
Related Media
Additional Links