Graid Technology & Liqid Named Most Innovative Flash Memory Enterprise Business Application, Best of Show at FMS 2023
Press Release
•
Aug 10, 2023
SupremeRAID™ by Graid Technology and Liqid IO Accelerators recognized for sophisticated software-composed solution that provides scalable storage and unprecedented levels of performance without sacrificing system integrity or security.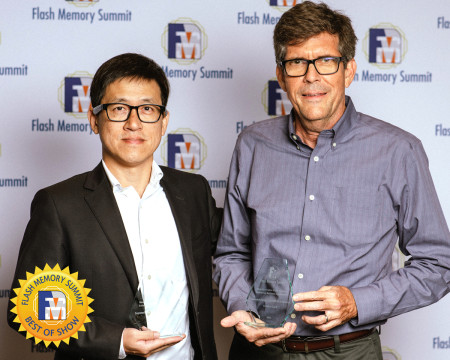 SANTA CLARA, Calif., August 10, 2023 (Newswire.com) - Flash Memory Summit, the world's largest and most prestigious storage industry conference, awarded SupremeRAID™ and Liqid IO Accelerators Best of Show for cutting-edge innovation in enterprise applications for media and entertainment.
SupremeRAID™, the revolutionary GPU-based NVMe RAID controller by Graid Technology, employs unique out-of-path RAID technology to deliver unprecedented levels of SSD performance without consuming CPU cycles or sacrificing system integrity or security. Meanwhile, Liqid NVMe IO Accelerator storage devices deliver the unrivaled storage performance required for modern M&E projects and maximize GPU flexibility for faster results with incredible efficiency. Together this solution removes the traditional RAID bottleneck and delivers an impressive 4M IOPS, 26GB/s throughput with only 10μs latency for stellar performance results.
"Businesses in the Media & Entertainment (M&E) world repeatedly face the challenges of a trade-off between data security and system speed, as they seek solutions which deliver both," said Jay Kramer, Chairman of the Awards Program and President of Network Storage Advisors Inc. "We are proud to recognize the collaboration of Graid Technology's SupremeRAID™ and Liqid's IO Accelerator, which offers scalable storage while eliminating application workload bottlenecks through record-breaking data ingest, throughput, and protection."
"We are honored to be named FMS Best of Show winner again this year," said Leander Yu, President and Founder of Graid Technology. "The flexibility and scalability of Liqid IO Accelerators provides the ideal platform to leverage the simplicity and scalability of the SupremeRAID™ offerings. The combination of Liqid and SupremeRAID™ delivers a data protection option with a lower cost of deployment plus unprecedented levels of performance without sacrificing system integrity or security."
"Receiving the Best of Show award is a true testament to how Graid Technology and Liqid have shattered the misconception that data protection only comes at the cost of performance," said Sumit Puri, Cofounder and CEO of Liqid. "We've been accelerating VDI and rendering for M&E customers for years, and this recognition further fuels our commitment to revolutionizing the industry and delivering unparalleled solutions to our customers."
The Flash Memory Summit's annual Best of Show awards are a premier opportunity for the industry to recognize innovative products and solutions that are being used in the marketplace. A record number of award submissions were received this year, making each of the categories extremely competitive. Learn more about Graid Technology at Flash Memory Summit 2023 here.
About Graid Technology Inc.
Headquartered in Silicon Valley, CA, with an R&D center in Taipei, Taiwan, our leadership is composed of a dedicated team of experts with decades of experience in the SDS, ASIC, and storage industries. Chosen by CRN as a 2022 Emerging Vendor in the Storage & Disaster Recovery category, and FMS 2022 Best of Show winner, Graid Technology Inc. has developed the world's only NVMe and NVMeoF RAID card to unlock the full potential of PCIe 3, 4, and 5 SSD performance without sacrificing system integrity or security. Visit our website or connect with us on Twitter or LinkedIn.
About Liqid
Liqid is the global leader in composable disaggregated infrastructure (CDI) solutions, revolutionizing the way organizations utilize IT resources. By empowering organizations with unprecedented agility, flexibility, and efficiency, Liqid enables users to effortlessly configure, scale, and manage their IT infrastructure in seconds. With Liqid's innovative Matrix software at its core, customers get comprehensive control over resource utilization, including GPU and storage, allowing them to efficiently adapt to evolving needs. Committed to driving innovation and helping customers tackle their computing challenges, Liqid is at the forefront of shaping the future of data center infrastructure. For more information, visit www.liqid.com and follow Liqid on Twitter and LinkedIn.
About Flash Memory Summit
Flash Memory Summit showcases the mainstream applications, key technologies, and leading vendors that are driving the multi-billion-dollar non-volatile memory and SSD markets. FMS remains the world's largest event featuring the trends, innovations, and influencers driving the adoption of flash memory in demanding enterprise storage applications, as well as in smartphones, tablets, and mobile and embedded systems. Learn more at FlashMemorySummit.com.
Source: Graid Technology, Inc.
Related Files