GP Transco Receives 2023 Chicago Tribune Top Workplaces Award
Press Release
•
Nov 8, 2023
GP Transco Clinches Top Workplaces Award from the Chicago Tribune for the Second Time in 2023, Building on Their Outstanding 2023 and Sustaining a Legacy of Excellence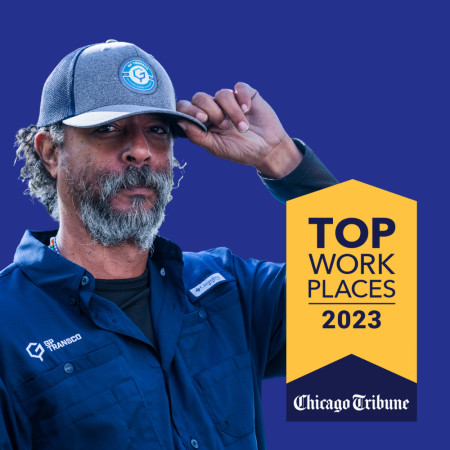 JOLIET, Ill., November 8, 2023 (Newswire.com) - GP Transco, a leading name in the transportation and logistics industry, is delighted to announce that it has been honored with the prestigious 2023 Chicago Tribune Top Workplaces Award, this is the second time GP Transco has won this award. This recognition underscores GP Transco's commitment to creating a positive and thriving work environment for its employees, both in-office and over the road.
The Chicago Tribune Top Workplaces Award is a testament to GP Transco's dedication to excellence in every facet of its operations. The award, which is based on employee feedback, acknowledges organizations that prioritize employee well-being, growth opportunities, and foster a culture of collaboration and innovation.
"We are incredibly proud to be recognized as one of the Top Workplaces by the Chicago Tribune," said Dominic Zastarskis, CEO of GP Transco. "This achievement speaks volumes about our team's dedication, hard work, and passion for what we do. It also highlights our ongoing commitment to creating an environment where every employee, in the office and over the road, feels valued and has the opportunity to thrive."
GP Transco places a strong emphasis on professional development, offering continuous training and education programs to ensure that employees have the tools and knowledge to excel in their roles. The company also provides a comprehensive benefits package and a supportive work culture that encourages open communication and teamwork.
"We believe that a motivated and engaged workforce is key to our success," Zastarskis continued. "Our office staff, shop mechanics, and truck drivers are the heart of GP Transco, and we are grateful for their dedication and contributions to our company."
This accolade further solidifies GP Transco's position as an industry leader and a sought-after employer in the transportation sector. The company's innovative approach to logistics and unwavering commitment to its employees continue to set the standard for excellence in the industry.
About the Company:
GP Transco provides safe and reliable dry van freight transportation and logistics services to a diverse group of clients across the United States. As a Chicago Tribune Top Workplace and an EPA SmartWay Carrier Partner with over 500 trucks and over 800 trailers, the company utilizes advanced technologies and modern workflows to provide clients with industry-leading freight transportation solutions.
To learn more about GP Transco, visit www.gptransco.com.
You can learn more about working at GP Transco at www.gptransco.com/careers.
Media Contact:
Sergey Bort | VP of Marketing and Strategy
Phone: 708.286.5411
Email: sergey@GPtransco.com
Source: GP Transco