GP Transco is Named an Inc. 5000 Company for the 7th Time
Press Release
•
Aug 15, 2023
The innovative trucking company has been the topic of discussion in the industry for the past few years, being named a Crain's Fast 50 Company five times, Smart-Trucking's Best Company to Drive For in 2021 and 2022, winner of the 2023 USA Top Workplaces, and more.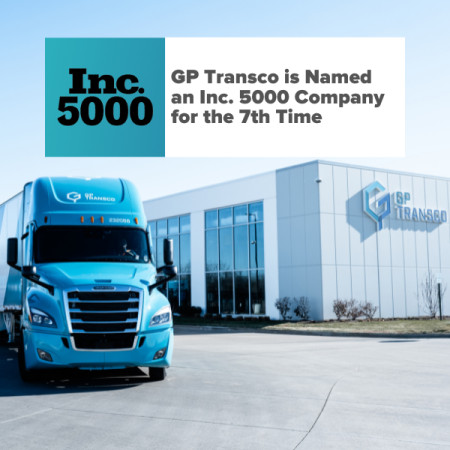 JOLIET, Ill., August 15, 2023 (Newswire.com) - GP Transco, a growing over-the-road trucking and logistics company, earned a position on the illustrious and prestigious Inc. 5000 listing for the seventh time ranking at #4743.
The Inc. 5000 class of 2023 represents companies that have driven rapid revenue growth while navigating inflationary pressure, the rising costs of capital, and seemingly intractable hiring challenges. Among this year's top 500 companies, the average median three-year revenue growth rate ticked up to an astonishing 2,238%. In all, this year's Inc. 5000 companies have added 1,187,266 jobs to the economy over the past three years.
"We are thrilled to see GP Transco continue to rise as one of the fastest-growing trucking companies in the United States. We would like to thank our amazing staff, our outstanding truck drivers, and our skilled mechanics and technicians for their hard work and dedication - there is truly no limit to where we can go with this incredible team," said Dominic Zastarskis, CEO of GP Transco.
The 520 truck carrier has been a topic of discussion on a number of listings, including Crain's Fast 50, a #1 company on the Truck Drivers Salary Top-10 list; Smart-Trucking's Best Company to Work for in 2021 and 2022; 2023 USA Top Workplaces; and now, Inc. 5000 for the seventh time.
About the Company:
GP Transco provides safe and reliable dry van freight transportation and logistics services to a diverse group of clients across the United States. As a Chicago Tribune Top Workplace and an EPA SmartWay Carrier Partner with over 500 trucks and over 700 trailers, the company utilizes advanced technologies and modern workflows to provide clients with industry-leading freight transportation solutions.
Source: GP Transco