GP Transco Earns Prestigious Spot on the 2023 SmartWay High Performer List
Press Release
•
Sep 5, 2023
GP Transco, a leading name in the transportation and logistics industry, is proud to announce its inclusion in the 2023 SmartWay High Performer list.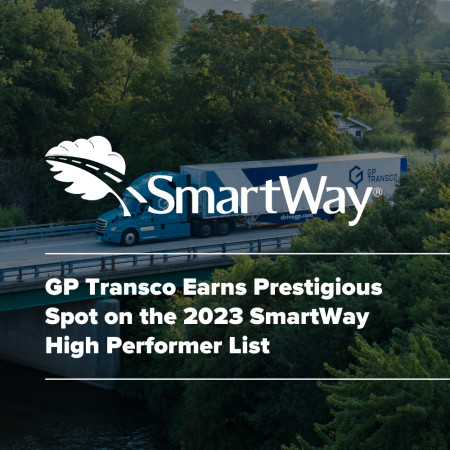 JOLIET, Ill., September 5, 2023 (Newswire.com) - GP Transco is a prominent name in the transportation and logistics industry, renowned for its commitment to environmentally friendly practices and cutting-edge technology. With a focus on sustainable operations and exceptional customer service, GP Transco continues to drive positive change within the transportation sector.
The SmartWay High Performer list, compiled annually by the U.S. Environmental Protection Agency (EPA), celebrates companies that excel in reducing carbon emissions and promoting sustainable freight transportation. GP Transco's placement on this esteemed list underscores the company's dedication to eco-friendly operations and its significant contributions to reducing the carbon footprint of the transportation industry.
"We are immensely proud to be recognized as a 2023 SmartWay High Performer. This achievement reflects our team's dedication to upholding the highest standards of safety, sustainability, and operational excellence. At GP Transco, we view this award as a testament to our unwavering commitment to a greener future and the well-being of our planet. We remain steadfast in our efforts to lead the way in sustainable transportation solutions and continue driving positive change within our industry," said Brett Wilkie, VP of Maintenance at GP Transco.
GP Transco has consistently demonstrated its commitment to sustainable practices through investments in cutting-edge technologies, streamlined operations, and a comprehensive approach to fuel efficiency. The company's fleet management practices, route optimization systems, and driver training programs have all played pivotal roles in reducing fuel consumption and emissions.
By earning a spot on the SmartWay High Performer list, GP Transco joins an elite group of industry leaders recognized for their dedication to a greener future. The company's inclusion reinforces its position as a responsible corporate citizen and showcases its contribution to the global effort to mitigate climate change.
As part of its ongoing commitment to sustainability, GP Transco remains dedicated to exploring new ways to enhance its operational practices and further reduce its environmental impact. The company remains focused on driving innovation within the transportation sector, working towards a more sustainable and resilient industry.
About GP Transco:
GP Transco provides safe and reliable dry van freight transportation and logistics services to a diverse group of clients across the United States. As a Chicago Tribune Top Workplace and a seven-time Inc. 5000 award recipient with over 500 trucks and over 700 trailers, the company utilizes advanced technologies and modern workflows to provide clients with industry-leading freight transportation solutions.
To learn more about GP Transco, visit www.gptransco.com.
You can learn more about working at GP Transco at www.gptransco.com/careers.
Source: GP Transco