GP Transco Achieves Industry-Leading 20% Driver Turnover Rate
The elite carrier stands out with an industry-leading low turnover rate compared to the 98 percent national average reported by the Commercial Carrier Journal (CCJ) on October 3, 2018. The low rate is achieved by the company concentrating on treating its drivers with respect and making driver satisfaction the number one priority.
Press Release
-
updated: Oct 10, 2018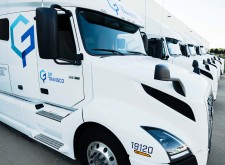 DARIEN, Ill., October 4, 2018 (Newswire.com) - GP Transco celebrates an impressive 20 percent year-to-date driver turnover rate, despite an industry three-year high of 98 percent.
According to an October 3, 2018 article by the Commercial Carrier Journal (CCJ), driver turnover rate in the trucking industry among large carriers surged to a three-year high in the 2nd quarter of 2018. "The turnover rate at large truckload carriers (those with more than $27 million in annual revenue) jumped again in the second quarter of 2018, climbing 4 percentage points to an annualized rate of 98 percent. That's the highest rate since late 2015." 
While trucking companies are experiencing extremely high turnover from company drivers and owner-operators, GP Transco has managed to reach a company all-time record of 20% in 2018. "Maintaining a turnover rate that is almost 80 percent less than the industry standard is no easy task," said Marija Jamontas, GP Transco's Vice President of Human Resources and Safety. "It starts from a fundamental respect towards our drivers and making their comfort and satisfaction our number one priority. Once you commit yourself to this goal, the rest takes care of itself. We implement many driver recognition programs and have an open-door policy between drivers and management, and drivers seem to enjoy it."
This approach to management seems to pay off, according to results of a 2018 GP Transco drivers survey. The results of the survey show that 91 percent of GP drivers say that the company supports them in dealing with shippers and receivers, compared to the national average of 65 percent. Overall, GP Transco has an 80 percent level of general satisfaction from drivers based on feeling respected by the carrier, home time, route preference, opinion on company policies, and more. This is quite an accomplishment, considering the average level of satisfaction of drivers in the US is around 55 percent.
About GP Transco:
GP Transco provides safe and reliable dry van freight transportation and logistics services to a diverse group of clients across the United States and Canada. As an EPA SmartWay Carrier Partner with 350 trucks and over 500 trailers, the company utilizes state-of-the-art technologies and modern workflows in order to provide clients with industry-leading solutions.
Source: GP Transco
Share:
---
Categories: Transportation and Logistics
Tags: company driver, GP Transco, logistics, modern trucking, over the road, owner-operator, trucking
---
Related Files
Additional Links