Gorilla Dirt Launches Elemental Duffle Bag on Kickstarter - Built for Adventure
Press Release
•
Aug 9, 2022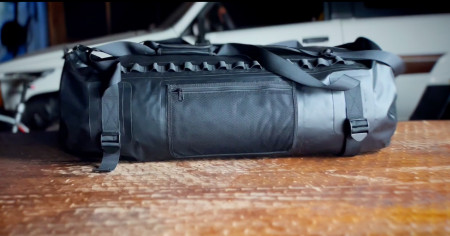 MURPHYS, Calif., August 9, 2022 (Newswire.com) - Elemental Duffle Bag, a weather-resistant, adventure-ready duffle bag, launches on Kickstarter (https://www.kickstarter.com/projects/gorilladirt/elemental-duffle-bag-built-for-adventure). A new duffle bag launched by Gorilla Dirt (https://gorilladirt.com) aims to take on the hard shell cargo boxes and canvas style bags in the adventure travel space, such as overlanding and off-road adventure. The campaign has 27 days to go as of August 8 and is 50% funded.
The duffle bags are designed using a weather-resistant, polyethylene shell for dust, dirt and moisture resistance but also tear and puncture resistance. The seams are all heat pressed. It includes utility loops for attaching extra gear, nylon straps for carrying and the load-bearing support straps are adjustable. The load straps can also be used to attach additional gear or as ties downs in some situations. There are two sizes for this launch - a 28L and a 65L.
The bags are designed for durability and portability while on the trail. They are suited for anyone needing storage for gear, clothing, food, etc. that wants to be able to move that storage around easily and access its contents quickly while off on their adventures. The bags have been tested by us as well as other adventure travelers. One, in particular, Baptism Overland, put this bag through a number of uses on their YouTube channel.
"The bags are all about the 'getting dirty and staying dirty' lifestyle that we promote. We wanted a storage option that protected against all this dirty fun but had more portability than your typical hard shell storage option," said Blake Lemmons, Founder of Gorilla Dirt and the Elemental Duffle Bag.
Source: Gorilla Dirt LLC