Goop Kitchen Leverages AI to Enhance Its Mission of Sustainability and Increase Profitability
Press Release
•
updated: Jun 17, 2023
Goop Kitchen leverages ClearCOGS AI to reduce food waste and minimize its environmental footprint.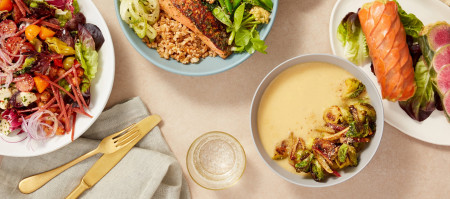 LOS ANGELES, June 16, 2023 (Newswire.com) - Goop Kitchen, part of Los Angeles-based wellness brand Goop, unveiled the results of its recent integration of back-of-house AI technology to enhance operational efficiency. Through the implementation of ClearCOGS demand forecasting software, Goop Kitchen successfully reduced its food costs (COGS) and profit margin by over 2%. By leveraging AI-powered systems, the brand optimized its back-of-house operations, enabling precise forecasting, improved inventory management, and enhanced ingredient sourcing.
In addition to the financial benefits, Goop Kitchen's commitment to sustainability has been further strengthened by the implementation of AI. By optimizing ingredient sourcing, reducing waste, and implementing environmentally friendly packaging solutions, Goop Kitchen continues to prioritize its role as a responsible and eco-conscious brand.
"Our team at Goop Kitchen is one of the best I've had the pleasure of working with. We recognize with new technologies that there are always ways to improve operations to gain a competitive advantage. We run a pretty tight operation, so we were skeptical about the value this would add. Needless to say, we were shocked that literally overnight we were able to add 2% to the bottom line with no operational changes using ClearCOGS software," said Goop Kitchen chef de cuisine Matt Givens.
Goop Kitchen's Senior Director of Operations Douglas Henriquez added, "By leveraging AI technology, we have not only achieved significant cost savings but also made substantial progress in our sustainability goals. This milestone reinforces our commitment to delivering exceptional dining experiences while minimizing our environmental footprint."
The successful integration of AI technology into Goop Kitchen's operations demonstrates the brand's commitment to staying at the forefront of innovation in the food industry. Through strategic partnerships and cutting-edge technology, Goop Kitchen continues to raise the bar for culinary excellence and operational efficiency.
ABOUT Goop Kitchen:
Goop Kitchen is a clean-eating restaurant concept with a mission to accelerate the clean-food movement by proving that eating clean can be delicious, satisfying, and accessible. With a strong focus on sustainability in their food management, sourcing, and packaging, their multiple concepts in the Los Angeles area make green eating delicious and easy through their accessible take-out options.
About ClearCOGS:
ClearCOGS is an Artificial Intelligence company with a focus on leveraging AI to drive operational efficiency in restaurant operations. ClearCOGS empowers restaurants with real-time actionable intelligence, helping optimize daily decisions and increase bottom-line profitability.
Source: ClearCOGS
Tags