Goodbye Boring Vitamins, Hello Roar Chocolate
Press Release
•
updated: Apr 6, 2017
Ingenious chocolate brand promises guilt-free pleasure with a nutritional edge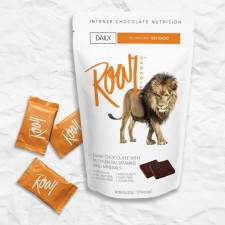 AMERICAN FORK, Utah, April 6, 2017 (Newswire.com) - There's an intriguing new way to break out of the dull multivitamin routine. Roar Chocolate® is an all-natural Belgian dark chocolate which is not only remarkably high in antioxidants but also provides 100% daily value of 10 vitamins and minerals in each square. It's a delicious way to indulge in chocolate for both pleasure and nutritional purpose.
Launched in 2014, Roar Chocolate prides itself on merging uncompromised quality and flavor with high nutritional value. It's made with 55% cacao. But the secret to Roar Chocolate's nutritional boost is a special blend of vitamins and minerals designed to provide better energy production, improved immune system support, and additional antioxidant power to combat free radicals. What more could you want?
"Roar Chocolate represents a whole new category of healthy, functional chocolate."

Lee Lisonbee, Co-Founder
"Roar Chocolate represents a whole new category of healthy, functional chocolate," remarked Co-Founder Lee Lisonbee. "We created it to provide superior nutrition for people who love quality chocolate. One key element is the cocoa butter which helps dissolve the fat-soluble vitamins A, D, E and K for better absorption. This means you don't just get the vitamins, your body can actually use the vitamins."
Consumers today are increasingly reaching for multivitamin alternatives to provide added gratification to the nutritional value they seek. And a recent Nielsen poll revealed that nearly 70 percent of U.S. consumers desire to buy healthier versions of their favorite candy and treats. Roar Chocolate satisfies both consumer trends with its high nutritional value and guilt-free formula.
Each 9g square contains just 47 calories and is sugar-free, gluten-free, diary-free, and low-carb. It's an ideal alternative to highly processed multivitamin gummies and chewables – many of which are loaded with sugars, preservatives, fillers and artificial ingredients. It's the perfect treat for most any diet plan.
Beyond its nutritional value, Roar Chocolate has always focused on quality, sustainability, and philanthropy. It's made with just five all-natural ingredients to maximize flavor. Only the best, sustainably-sourced, non-GMO cacao beans are used. And for every product sold, the creators of Roar Chocolate make a donation to plant a tree in the developing world – giving back to the earth and providing for families in need. These are just a few more ways Roar Chocolate is providing added purpose to chocolaty pleasure.
Roar Chocolate squares come individually wrapped for easy portion control. They're available in 25-piece bags with an option to receive a discount for a monthly product subscription.
About Roar Chocolate®
Roar Chocolate is the flagship brand of Color Earth® – a health and wellness company focused on providing creative, core nutrition products to bolster health. It was developed to provide superior nutrition for people who love quality chocolate and who value vitamin alternatives. More functional blends for use in Roar Chocolate have been approved for production in the near future.
Contact:
Lee Lisonbee
Co-Founder, Roar Chocolate®
801-692-6895
lee@colorearth.com
Facebook: www.facebook.com/roarchocolate
Instagram: @RoarChocolate
Twitter: @RoarChocolate
SOURCE Roar Chocolate®
# # #
Source: Roar Chocolate®
Related Media