Goldsky Helps Ssssh Charity Gain Much-Needed Transport for Homeless
Today, Goldsky and JK Grace Foundation move towards ending the challenges of homelessness in Northern NSW with a new free bus service.
Press Release
-
updated: Oct 1, 2018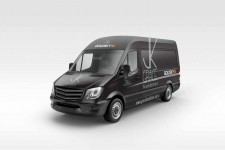 SYDNEY, October 1, 2018 (Newswire.com) - Prominent Australian hedge fund, Goldsky Asset Management, is the major sponsor for the Sleep Safe Sleep Sweet initiative in the Tweed Shire (Australia) — having contributed an initial $100,000 in funding to secure premises as well as donating 25 percent of its client management fees to SSSS on an ongoing basis.
Today, Goldsky and the Jane and Ken Grace Foundation announced that Sleep Safe Sleep Sweet (locally known as the "Ssssh Charity"), has taken another step towards ending the helplessness of homelessness in the local Tweed Shire region with the purchase of a mini-bus.
Most people may have little idea how difficult it is for the homeless each day and night — not having anywhere safe or warm to sleep — and that's why the Sleep Safe Sleep Sweet (SSSS) team are still actively trying to find premises for the local Tweed Shire's homeless, which reportedly has not been as easy as they first thought.
However, despite this temporary setback, SSSS and the Jane and Ken Foundation (the founders of the SSSS initiative) have been maintaining their focus, pushing forward and donating money to other not-for-profit facilities that are also doing their best with the limited resources they have to make a difference for homeless individuals.
SSSS founder, Jane Grace, states: "With our Ssssh Bus, we aim to help with getting kids to school, or those that need help with employment and getting to appointments, or those that need basic medical assistance."
Their aim is that by having some form of transport that the local homeless can start to see that they can get places they couldn't before—even if it just means being able to have a shower and wash their clothes at support services that are already in place, or perhaps to get to a food centre.
The SSSS team also believe that by having some sort of routine, these young kids will not only start the process of seeing a brighter day, but hopefully also make friends in the same situation as they are — becoming "Bus Buddies", as Grace puts it.
"This is just a small part of our commitment to helping our homeless, and there is still a long way to go. However, I am confident that with the help of my husband Kenneth Grace and Goldsky's generous support we will achieve our goals and succeed with the vision I have had for a long time," says Grace.
It's encouraging to see that, although it may be 'baby steps' right now, the complete Sleep Sweet Sleep Safe initiative will one day soon be realised and the Tweed Shire region will have vastly improved support for its homeless.
—
About The Sleep Safe Sleep Sweet Initiative:
The Sleep Safe Sleep Sweet initiative is to get our young people in the Tweed region affected by homelessness to a place where they can not only stabilise their lives but with help realise that they are valued and active members of our community.
By implementing and applying the tools and initiatives required they hope to transition these kids from hopelessness and homelessness to independent living, which doesn't mean "alone" — this means being able to finish school, enter the workforce, learn living and working skills, sitting at a table with people who care and are interested in talking to them and encouraging them, turning their lives into a life worth living.
For more information:
About SSSS, please visit: https://ssssh.com.au
About Goldsky, please visit: http://goldsky.com.au
JK Grace Foundation Facebook page: https://fb.com/kjgfoundation
Press Contact:
Goldsky Asset Management
Level 29/Chifley Tower 2 Chifley Square, Sydney NSW 2000
Jack Bow
0497 018 923
jackb@goldsky.com.au
Source: Goldsky Asset Management
Share:
---
Categories: Children's Issues, Non Profit
Tags: asset management, charity, Goldsky, hedge fund, homelessness, Kenneth Grace, not for profit, SSSS foundation
---