Goldco's CoinIRA Subsidiary Announces New Digital IRA Bundles
Press Release
•
updated: Sep 6, 2017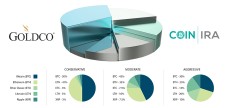 WOODLAND HILLS, Calif., September 6, 2017 (Newswire.com) - Goldco's digital currency subsidiary CoinIRA is pleased to announce the launch of its new Digital IRA Bundles. These new investment products allow investors to invest in the most popular cryptocurrencies available today. The bundles come pre-packaged with a combination of the most popular and best-known cryptocurrencies, including Bitcoin, Litecoin, Ripple, Ethereum, and Ether Classic.
"We're very happy to be able to offer these exciting new products to our clients and to enable them to benefit from the tremendous potential for asset growth offered by cryptocurrencies," said Trevor Gerszt, Goldco's CEO. "We want to make sure that our clients have every opportunity to maximize the growth of their investments."
In a market as fast-paced and ever-changing as cryptocurrency, we aim to stay at the forefront of the latest market developments.

Dwight Flenniken III, Executive VP for Marketing
Bitcoin has quadrupled in price in 2017, while Litecoin and Ethereum have seen 20-fold and 50-fold increases respectively.
The percentage of each cryptocurrency held in the IRA bundles will vary based on an investor's risk appetite, with investors being able to choose from bundles categorized as conservative, moderate, or aggressive. The bundles are available in amounts of $25,000, $50,000, and $100,000.
"Our focus on satisfying clients, our long track record of customer service, and our staff's knowledge and expertise establish us as a leading provider of cryptocurrency investment services," said Howard Aronson, Goldco's Executive Vice President for Sales and Marketing.
As with other self-directed IRA products, the new Digital IRA Bundles can be funded through tax-free rollovers from existing retirement accounts, including IRAs and 401(k)s.
"These new products put us on the cutting edge of cryptocurrency investment. In a market as fast-paced and ever-changing as cryptocurrency, we aim to stay at the forefront of the latest market developments," said Dwight Flenniken III, Goldco's Executive Vice President for Marketing.
About Goldco
Founded in 2006, Goldco is ranked as the nation's top retirement service company for gold and silver IRAs. The company specializes in wealth and asset protection, offering a range of retirement investment accounts including traditional and self-directed IRAs, as well as IRA and 401(k) rollovers. Goldco's exceptional growth reflects the increasing desire among Americans for retirement options that offer a high degree of protection from market instability. To learn more about how to protect your retirement accounts, please visit goldco.com or call (855) 465-3472.
###
Source: Goldco Precious Metals
Related Media