Going the Distance for Drug Abuse Awareness
Press Release
•
updated: Mar 1, 2018
Los Angeles Scientologists promoted drug-free living at the city's Chinese New Year celebration.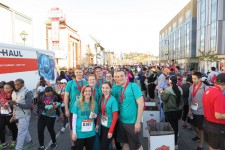 LOS ANGELES, March 1, 2018 (Newswire.com) - A team of Scientologists, dressed in bright aqua T-shirts to promote drug-free living, joined the thousands racing in the 40th annual Los Angeles Firecracker run to celebrate Chinese New Year 2018.
After successfully completing the race, the volunteers handed out copies of Truth About Drugs booklets to other runners, getting them on board to help end drug abuse.
The Los Angeles Chinese New Year's Festival features the Firecracker Run, lion and dragon dances, live bands, and great food. The Firecracker is one of the largest and longest-running Chinese New Year charity runs in the country.
The Truth About Drugs is one of 14 booklets containing facts about the most commonly abused drugs. Written in plain language, easy to understand, and available in 22 languages, the booklets dispel false ideas and explain the physical and mental effects of drugs.
The Church of Scientology and its members support the Foundation for a Drug-Free World, a secular nonprofit corporation that empowers youth and adults with factual information about drugs so they can make informed decisions to live drug-free. The Foundation's Truth About Drugs campaign is one of the world's largest nongovernmental drug education and prevention initiatives. Thanks to this support, the Foundation provides drug education booklets, videos and educator guides free of charge to teachers, mentors and civic and community leaders.
According to the United Nations Office on Drug Abuse and Illicit Trafficking, "Every dollar spent on prevention can save governments up to ten dollars in later costs."
For more information, visit the Foundation for a Drug-Free World website.
Source: ScientologyNews.org
Related Media