Go Back to School With Children's Learning Adventure
Press Release
•
updated: Aug 17, 2018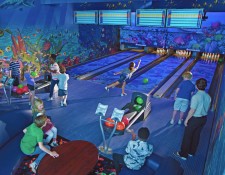 SCOTTSDALE, Ariz., August 17, 2018 (Newswire.com) - As summer comes to an end, Children's Learning Adventure® is securing fall enrollment for families. It is important for children to get "plugged in" and stay engaged in their educational development throughout the whole year. Children's Learning Adventure has created six programs, from infant care to after school, to promote and help students of all ages grow and learn.
Academics are an important part of every child's social and emotional development. Children's Learning Adventure has created a School Age program to provide an active, engaging environment for students before and after a long day at school. The School Age program includes a variety of content areas, including creative arts, math, language and science.
The goal of Children's Learning Adventure's Before and After School Age program is to provide an environment for children that combines freedom and structure with the right mix to inspire each child. Their enrichment programs for before and after school include but are not limited to: homework help, sports, culinary and more. Co-founder and CEO Rick Sodja remarks, "While all of our programs are world-class, I'm most proud of our Before and After School programs because the impact it has on the children and their parents is significant and immediate.''
In addition to after-school help, Children's Learning Adventure also provides transportation to and from local elementary schools. This assists busy parents by helping relieve the challenge and stress of planning for after-school programs and transportation to and from school. Their transportation system is safe, clean and convenient; providing a peace of mind for parents during their workday. Children are then brought to Children's Learning Adventure where they can engage in exciting environments with peers, while provided guidance and direction for homework.
Children begin building confidence early on. Children's Learning Adventure provides a secure, safe and nurturing environment to facilitate the child's growth in self-confidence and all areas of development. By providing a positive, engaging after-school environment, the child experiences assistance with homework as needed, ensuring the time for social and emotional learning with peers, as well as valuable family time at the end of the day.
To learn more about Children's Learning Adventure or the Before and After School Program, please visit http://www.childrenslearningadventure.com/.
For more information, please contact:
Kyle Greenberg
Creative Manager
844-330-4400
kgreenberg@childrenslearningadventure.com
Source: Children's Learning Adventure
Related Media