Glugeth & Pierguidi, P.C. is Providing Free Uber, Lyft, and Cab Rides in the New York Metro Area for Memorial Day Weekend
Press Release
•
May 24, 2023
During the upcoming Memorial Day holiday weekend, Glugeth & Pierguidi, P.C. is offering the New York metro community free sober rides home.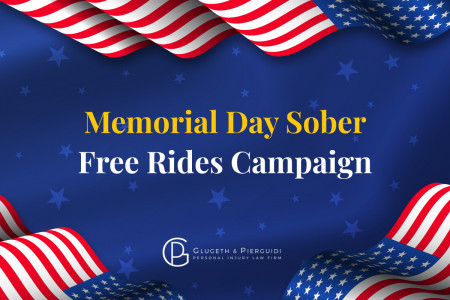 HOBOKEN, N.J., May 24, 2023 (Newswire.com) - Every year on Memorial Day, Americans take time off from work to celebrate those who fought and died for their rights as citizens. Like any other nationwide holiday, the increased alcohol consumption during Memorial Day weekend comes with a surge of fatal accidents across the United States. According to research done by WalletHub, in 2022, 37 percent of all the traffic fatalities that occurred throughout Memorial Day weekend were alcohol-related.
The experienced personal injury attorneys at Glugeth & Pierguidi, P.C. understand the damaging consequences of drinking and driving, along with the lasting trauma it can cause. To help combat this, the firm is offering those in the New York metro area sober rides home from 5 p.m. on Friday, May 26, 2023, to 10 a.m. on Tuesday, May 30, 2023.
There is no good reason for anyone to ever drive under the influence. Within seconds of making such a decision, an impaired driver can permanently ruin their own life, as well as the lives of others. Whether there are plans to grab drinks with friends or even just getting an extra glass of wine with dinner, Glugeth & Pierguidi, P.C. is here to get people home without incident.
The firm's offer is as follows: If someone has been drinking, just call an Uber, Lyft or cab service for a ride back home. After they arrive safely at their location, mail the receipt to Glugeth & Pierguidi, P.C., and the firm will reimburse the ride's cost. Simple as that. Just make a responsible decision and get rewarded for it.
To qualify for reimbursement:
Rides must be taken within the New York metro area (only qualified in New Jersey or boroughs of New York City);
Rides must occur between 5 p.m. on May 26, 2023, and 10 a.m. on May 30, 2023; and
Must be of legal drinking age to qualify (21 and over).
The Sober Rides Campaign offer is:
Valid for one, one-way ride to a safe destination;
Limited to one reimbursement per household;
Limited to a maximum reimbursement of $30 in the New York metro area, which includes a tip up to 10%; and
Limited to the first 60 submissions.
Checks will be mailed to the address on the photo ID.
To submit, include a receipt and photo ID and mail a copy to Glugeth & Pierguidi, P.C.:
Attention: The Sober Rides Campaign
Glugeth & Pierguidi, P.C.
5 Marine View Plaza, Suite 303
Hoboken, NJ 07030
Source: Glugeth & Pierguidi, P.C.