Globally, Psychiatry Coming Under Fire for Abuse
Press Release
•
updated: Jul 9, 2018
Citizens Commission on Human Rights traveling exhibit documents the history of psychiatry and exposes psychiatric fatalities, abuse and fraud. From Santa Monica, California, to Bogotá, Colombia, and from Tokyo to Times Square, thousands learn the truth behind what the group calls psychiatry's false facade.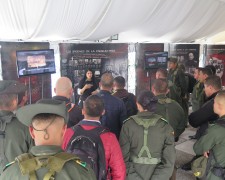 LOS ANGELES, July 9, 2018 (Newswire.com) - Psychiatry is under pressure and the Citizens Commission on Human Rights (CCHR), a global psychiatric watchdog headquartered in Los Angeles, warns psychiatrists that the pressure will mount exponentially until the industry is brought under the law and institutes widespread reforms.
CCHR says the name of its traveling exhibit Psychiatry: An Industry of Death is not hyperbole, rather a fact supported by statistics they present:
As of February 2018, at least 36 school shootings and/or school-related acts of violence had been committed by those taking or withdrawing from psychiatric drugs, resulting in 172 wounded and 80 dead.
The voltage and electrical current of modern ECT is higher than it was during the era of electroshock portrayed in the Academy-Award-winning film One Flew Over the Cuckoo's Nest.
16 states are currently electroshocking children, with five states shocking children under the age of 5 — some younger than 1 year of age.
More than 30 studies link antidepressants, antipsychotics, psychostimulants, mood stabilizers and sedative hypnotics to adverse effects that include hostility, mania, aggression, self-harm, suicide and homicidal thoughts.
Of 409 official psychiatric drug warnings: 49 warn of self-harm, suicide or suicidal ideation; 27 warn of violence, mania, psychosis, hostility, aggression or homicidal ideation; 43 warn of death or increased risk of death; 35 link emotional problems to the drugs; and 17 warn of addiction or withdrawal effects.
The traveling exhibit is key to raising awareness of psychiatric abuse and crimes, says CCHR. Over the past eight months, chapters in 16 nations have held 35 traveling exhibits in major cities.
The Psychiatry: An Industry of Death documentary may be watched in full on the Scientology TV channel.
CCHR was established in 1969 by the Church of Scientology and professor of psychiatry Thomas Szasz. It has been instrumental in enacting more than 180 laws worldwide to protect individuals from coercive psychiatric practices, including a federal U.S. law that prohibits schools from forcing children to take psychiatric drugs as a requisite for their education.
Source: ScientologyNews.org
Related Media