Global Translation Company, Day Translations Opens New Office in Paris, France
With the rise of immigrant populations in France, Day Translations is perfectly positioned to offer much-needed language translation services.
Press Release
-
updated: May 23, 2018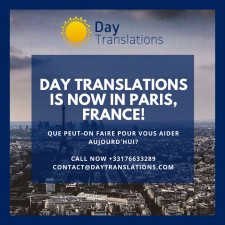 NEW YORK, May 22, 2018 (Newswire.com) - Day Translations, a global translation company, has just opened new offices in Paris, France. This new office joins other Day Translation offices available around the world including in Tel Aviv, Dubai and cities across the United States including New York City, Houston, D.C., Tampa, Los Angeles, San Francisco and Seattle.
"We are happy and excited to open a new office in France, which is the perfect country for a new Day Translations office," says Sean Hopwood, president and CEO of Day Translations Inc. "France has a high immigrant population and is one of the most immigration-friendly countries in Europe. Many people will need translation services as they get settled, search for work and adapt to their new environments."
At the end of 2016, France had a population of 64.7 million people with 6.6 million of those immigrants from other nations, according to statistics provided by ImmiGroup.com. Paris itself is quite diverse with the city and surrounding suburbs having 10.5 million people. Many of the country's immigrants are from neighboring countries like the United Kingdom and European Union member-states like Italy, Spain, Germany and Belgium. Additionally, a large percentage of immigrants come from Algeria, Morocco and Portugal.
Both with the immigrants coming to France and settling as well as French citizens who are traveling abroad and connecting with their new foreign neighbors, the country has diverse translation needs. Day Translations also offers an on-demand, multi-lingual, real-time interpreting platform DayInterpreting, which connects their clients with a real, human interpreter in less than 15 seconds. The platform is an over-the-phone interpreting (OPI) system built using the latest advancements in internet and telecommunication services.
Utilizing native speakers from countries across the globe, Day Translations provides translation services for more than 100 languages through professional human translators thoroughly vetted to ensure translations and interpretations are professional and accurate. The company offers 24/7 translations to meet any business, government, legal or medical need. 
The company also adheres to strict standards of quality and privacy, ensuring accurate translations with rapid delivery and a lifetime guarantee. To learn more about the company and their global reach, visit DayTranslations.com.
About Day Translations Inc.
Founded in 2007, by President and CEO Sean Hopwood, Day Translations Inc. is a professional translation and interpreting company. Day Translations has advanced translation systems, interpreting platforms and a huge network of professional translators to provide the best language services across all industries. To learn more, visit DayTranslations.com.
Source: Day Translations Inc.
---
Categories: Consulting and Professional Services
Tags: European translation company, traducteur assermenté, Translation Paris France
---