Global Sustainable Partnerships Partners With 1865 Company to Host Online Charity Art Auction in Support of Clean Water Global Initiative
Online auction platform featuring works by some of the most important black artists from around the country supports charities that need it most
Press Release
-
updated: Nov 4, 2020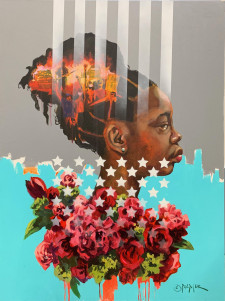 WASHINGTON, November 4, 2020 (Newswire.com) - Global Sustainable Partnerships (GSP) will join forces with 1865 Company to raise funds for the "Water is the Lifeline of Life" Clean Water Global Initiative through an online auction fundraiser. From Nov. 7- 22, 2020, visitors can bid on original artwork and limited-edition prints from renowned black artists including Alonzo Adams, Paul Goodnight, Albert Fennel, and James Denmark, among others.
GSP's "Water is the Lifeline of Life" initiative provides access to clean and safe drinking water for thousands of children in Tanzania. The initiative has reduced the incidence of water-borne illnesses in school-age children in the region, which has resulted in healthier students, increased school attendance, and improved academic performance. GSP has been twice lauded by the Sanitation and Environmental Health Competition in the Meru School District. GSP's founder and CEO Kimberly Fogg says, "A child's opportunities early in life can make or break their chance of becoming a thriving, successful adult. Achieving access to our most vital resource, clean and safe drinking water, can change the world for any child who needs it."
GSP has successfully spearheaded a water, sanitation, and hygiene (WASH) education program in 18 villages in rural Tanzania. According to Fogg, "GSP is working to meet the needs of children in Tanzania and as far beyond as we can grow, and our upcoming online art auction will help us further our critical mission. To date, GSP has donated and installed 200 filters to assist the most vulnerable communities (e.g., people living with HIV, the elderly, disabled, and seniors), and the work continues. The auction can be accessed at www.1865Company.com and all fine art lovers and collectors are encouraged to register and bid on this impressive lineup, all for a great cause.
About Global Sustainable Partnerships (GSP): GSP is a 501(c)(3) certified by the Center for Affordable Water and Sanitation Technology (CAWST). Through the clean water initiative, GSP has impacted over 100,000 people by providing access to clean drinking water, partnering with community organizations, and offering water safety education programming. To date, GSP has installed 680 HydrAid® ® BioSand filters and safe, clean drinking water has become a reality for more than 60,000 students, 300 households in two districts, three orphanages, 57 government and faith-based health clinics and dispensaries, as well as one regional hospital. Visit www.gspartnerships.org.
About 1865 Company: 1865 Company's mission is to educate and inspire Americans to value and cherish the full spectrum of its collective history while celebrating the African American legacy. The company is the purveyor of historically inspired jewelry, art, and executive gifts and has expanded its mission by hosting charitable online auctions to benefit organizations that provide support and assistance to vulnerable and marginalized communities. Visit www.1865Company.com.
Source: 1865 Company
Share:
---
Categories: Commercial Art
Tags: African American art, art auction, charity, charity auction, clean drinking water
---