Global Spirits Signs With Heidelberg Distributing
Khortytsa Vodka & Odessa Brandy Now Available in Kentucky
Press Release
-
updated: Jun 19, 2017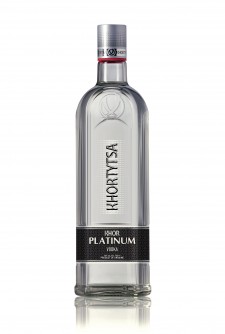 Frankfort, KY, June 19, 2017 (Newswire.com) - Global Spirits USA, a privately held, international manufacturer and marketer of wines and spirits, has signed Heidelberg Distributing as its distributor of record to distribute Khortytsa Vodka and Odessa Brandy in the State of Kentucky.
Heidelberg is a family-owned and operated company that markets and delivers beer, wine, spirits and non-alcohol beverages to retailers throughout Ohio and Kentucky. They have a portfolio comprised of 18,000 products reaching an impressive 26,000 area retailers.
"Our success in Tennessee caused Heidelberg to take a serious look at partnering with us," says Jim Amstutz, national sales director south, Global Spirits USA, LLC.  "In just a few short weeks, we've been very impressed with their commitment to our portfolio."
"We're passionate about maintaining a superior brand portfolio," notes Jimmy Carpenter, Heidelberg's VP of Sales.  "After seeing the success of these brands in neighboring markets, we quickly realized the tremendous opportunity they represented and quickly reached an agreement with Global Spirits to represent them here in Kentucky."
Khortytsa Vodka (commonly referred to as KHOR in the US) is ideally positioned to gain traction in Kentucky.  "Khortytsa is a quality vodka at a terrific price point that is growing rapidly," notes Amstutz.  "It is particularly popular with cost-conscious Millennial consumers."
Khortytsa Vodkas are produced at Ukraine's famed Khortytsa Distillery, which is among the world's best distilleries. The brand is named for Khortytsa Island, which is known as "the heart of Ukraine." This ancient island's history dates back thousands of years, to the very roots of civilization. It is considered a sacred place, and is one of the country's seven wonders. 
Built in 2003, the Khortytsa Distillery is among the world's finest distilleries. It uses a local organic filter containing schungite (a unique natural mineral) which allows it to get as close as possible to the structure of natural water.  The filtration process is further enhanced with special birch and alder-tree charcoal and quartz sand.
Currently, there are four items within the Khortytsa line imported to the United States: Khortytsa Platinum, which is the most popular item in the line, retailing for $9.99 per 750-mL; Khortytsa Ice, with a bottle color that changes when chilled, retails for $9.99 per 750-mL; Khortytsa Honey Pepper, which offers a spicy zing to a variety of cocktails, retails for $9.99 per 750-mL, and Khortytsa De Luxe for vodka connoisseurs, is a "super premium" vodka with a suggested retail of $23.99 for a 750-mL bottle.
Odessa V.S.O.P. brandy is an exciting product for the Kentucky market.  It is produced at Ukraine's famed Shustov Distillery from spirits distilled from white grape varietals including Rkatsiteli, Aligoté and Pinot varieties. The Rkatsiteli is an ancient pale-skinned grape variety from the Republic of Georgia – one of the oldest (if not the oldest) wine-producing regions on earth. Aligoté is a white grape used to make dry white wines in the Burgundy region of France, but it is also cultivated in many Eastern Europe countries.
Odessa is distilled using the traditional French "Charentais" – or double fractional distillation – in copper pot stills.  The heart of the distillate is then carefully selected to be bottled and aged, enhancing the delicate and refined aroma that is the signature of its white grape varietals.  The spirit then ages in oak barrels for at least five years.
The resulting brandy is world class.  Notes of oriental spices and citrus fruit dominate the first nose, while the second follows with hints of raisins and tones of maturity.  The taste carries honey and nutty overtones, while the creamy caramel finish is long and smooth.  It's a brandy to be savored.
Odessa V.S.O.P. Brandy available in 750-mL and 100-mL sizes, the product carries a suggested retail price of $10.99 or $1.99 respectively.
About Global Spirits USA
A Fortune 500 Company in Europe, Global Spirits was established in 2008 and has offices in New York, Moscow and Kiev, employing over 5,000 people. The company's annual volume exceeds 7.5 million cases, with distribution in over 80 countries.   Global Spirits USA markets and distributes strategic brands including: Khortytsa Vodka (3rd largest selling international vodka brand*), LEAF Organic Vodka, and Odessa V.S.O.P. Brandy.
For more information on Global Spirits USA, please visit http://globalspiritsus.com.
Source: Global Spirits US LLC
Share:
---
Categories: Food and Beverage Manufacturing, Food and Beverage Services, Wine
Tags: Global Spirits, Khortytsa Vodka, Odessa V.S.O.P. Brandy
---