GloAuc Makes History as It Claims JABA Best Used Car Exporter Award 2020-2021
Press Release
•
updated: Jul 27, 2021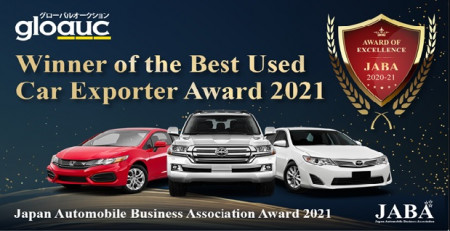 TOKYO, July 27, 2021 (Newswire.com) - 2020 proved to be the most dreaded year, where the world's economy took a deep plunge and businesses were trying to stay afloat. GloAuc turned out to be a gamechanger while many were forced to take a voluntary exit. We also witnessed a global chip shortage that hit the car production industry in Japan.
While new car production was facing impediments last year, Japanese used car exporters grabbed it as an opportunity. The used car trading industry made good revenue for the fiscal year 2020-2021.
However, GloAuc stood out and rightfully won the JABA Used Automobile Exporter Award 2020-2021.
What is the JABA Award?
JABA (Japan Automobile Business Association) Award is the most prestigious award presented to the highest-ranking used automobile exporter in Japan. For an exporter to earn this award, one must earn the highest points based on JABA's parameters.
Delivery Service (30 points) - this entails how fast an exporter delivers vehicles to its customers.
Competitive Pricing (30 points) - an exporter is given points on how competitive its pricing strategy is.
Customer Service (25 points) - an exporter is awarded points bases on customer satisfaction, which is judged by the feedback of customers.
Value Added Service (15 points) - the exporters are given points on the additional services given by their companies to their customers.
With the highest score, 96, GloAuc has received the JABA Best Used Car Exporter Award 2020-2021.
Delivery Service (29/30)
The delivery service provided by GloAuc proved to be second to none, receiving an astounding 29 points out of 30 on JABA's scoreboard. In times of shipment lag and delivery issues faced by almost all the used car dealers in Japan, GloAuc shocked everyone with the fastest car shipment and delivery.
Competitive Pricing (29/30)
GloAuc provided unbeatable prices for used cars where the company got 29 points out of 30 by JABA. These competitive prices were so low that even the old giants operating in the same industries were not able to match it.
Customer Service (24/25)
GloAuc was able to receive such a prominent victory as it delivered outstanding customer service, receiving 24 points out of 25 on JABA's point system. The company had minimum negative customer feedback for the year 2020-2021.
Value Added Service (14/15)
The company did exceptionally well in the year 2020-2021 and scored 14 on 15 by JABA; GloAuc offered easy and flexible payment plans, verified vehicles by Shaken Japan and even gave away free vehicle rewards as part of its value-added services.
This victory by GloAuc proves the company as a formidable used car exporter that is providing the lowest prices and quickest delivery for used cars while delivering the highest customer satisfaction. After receiving the JABA Award, the company witnessed a prominent surge in used cars orders from all around the world. With an increase in sales and JABA Award, GloAuc has become the leader of used cars exporters in Japan.
Source: JABA Awards