Glidewell Releases New Edition of Chairside® Magazine
The current issue features continuing education highlights from the company's third annual Glidewell Dental Symposium, plus informative articles intended to help clinicians improve and develop their practices.
Press Release
-
updated: Mar 5, 2020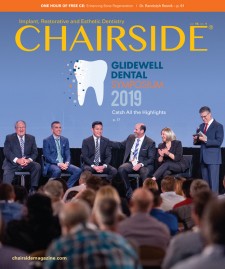 NEWPORT BEACH, Calif., March 5, 2020 (Newswire.com) - Glidewell, an industry-leading provider of dental laboratory services and clinical products, technologies and education, has released Vol. 15, Issue 1 of Chairside® magazine, featuring an inside look at November's third annual Glidewell Dental Symposium. The sold-out event brought together 21 world-class speakers, who shared the latest techniques, tools and technologies aimed at helping general dentists be more successful in their daily practices.
Dental sleep medicine is emphasized in the first of a series of articles that will focus on the screening and treatment of patients with sleep-related breathing disorders (SRBDs) by Drs. Ken Berley and Jesse Teng. Also featured is an informative piece to answer any questions dentists may have about becoming a Medicare DME (Durable Medical Equipment) supplier for reimbursement of sleep appliances, authored by Randy Curran and Kyle Curran.
The latest edition includes a thought-provoking case report by Dr. Susan McMahan in which she illustrates the steps taken to restore the smile of a patient after a severe eating disorder. Dr. McMahon is a member of the inaugural, 2019 class of Guiding Leaders, a leadership development program for women in dentistry. Within this edition, Glidewell Executive Vice President Stephenie Goddard, the visionary behind the program, shares an inside look at the Guiding Leaders Summit 2020: a weekend of continuing education and professional development taking place April 24-25 in Huntington Beach, California. The magazine also recounts Dr. Jill Frazier's transformational year as a participant in the Guiding Leaders program.
Included in this issue is a fascinating look at a highly beneficial procedure that can accelerate hard- and soft-tissue healing at implant sites brought to you by the Misch Institute's Dr. Randolph Resnik. In a separate feature, Dr. Resnik shares an inside look at the new fourth edition of "Contemporary Implant Dentistry," which is available now. In other implant content, a must-read by Dr. Timothy Kosinski examines the choices between flap reflection and a flapless surgical procedure when placing implants.
This edition's R&D Corner article explains how artificial intelligence is being used in the dental laboratory to produce better crowns, faster than ever before.
And finally, Glidewell is proud to present free online CE courses with the recent launch of education.glidewelldental.com. The new website has made it even easier for dental professionals to find the continuing education (CE) courses they seek.
Chairside magazine is also available in a digital format which offers readers exclusive content, including in-depth videos, clinical case photos, CE credits, and more. It can be accessed anytime, anywhere, from a desktop, tablet or mobile device. Print editions of the quarterly magazine are distributed to dental offices nationwide.
About Glidewell Dental
Glidewell is among the world's largest providers of custom restorative services and is recognized as an industry-leading materials and devices manufacturer. Established in 1970 in Orange County, California, Glidewell continues to build on its storied history of technological innovation and continuing education, committed to making comprehensive, high-quality treatment more accessible to patients in the U.S. and internationally. For more information, visit glidewelldental.com.
MEDIA CONTACT:
Eldon Thompson, Sr. Director of Marketing
Glidewell
mail@glidewelldental.com
Source: Glidewell
Share:
---
Categories: Dentistry
Tags: Chairside, Clinical Products, Dental, Dentistry, Education, Glidewell, Guiding Leaders, Magazine, Newport Beach, Symposium
---