Glidewell Direct Now Exclusive Distributor of BruxZir® Milling Blanks, Announces Unprecedented Manufacturer-Direct Pricing
New distribution model for industry-leading zirconia lowers milling blank costs for dental labs by 25-46 percent.
Press Release
-
updated: Dec 4, 2018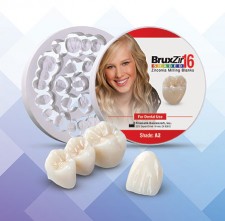 IRVINE, Calif., December 4, 2018 (Newswire.com) - Glidewell Direct has announced that it is now the exclusive distributor of BruxZir® Solid Zirconia Milling Blanks, allowing dental labs to purchase the No. 1 prescribed dental zirconia at unprecedented manufacturer-direct prices. The news follows the publication of the November 2018 issue of the Gordon J. Christensen Clinicians Report® showing a 0 percent fracture rate for BruxZir Solid Zirconia over an eight-year period.*
"We believe that the ability to purchase the zirconia brand most requested by doctors at substantially reduced, manufacturer-direct prices offers dental labs a formula for success as they look to expand their businesses," said Stephenie Goddard, executive vice president of Glidewell Dental. "Additionally, the unmatched independent clinical validation of BruxZir Solid Zirconia should give labs confidence as they strive to meet dentists' expectations for long-lasting restorations."
The recent Clinicians Report® 8-Year Clinical Study on BruxZir® Solid Zirconia showed zero terminal fractures and a 100 percent survival rate after eight years of study. Further, the material best met the seven sought-after characteristics of TRAC Research, which include tooth coloration, reasonable cost, minimal preparation requirements, lasting and easy cementation, tolerance to wear, kindness to opposing dentition and trouble-free service of at least 10 years. For the full report, visit BruxZir.com/8-year.
Manufactured in Newport Beach, California, using the highest quality zirconia powder from Japan, BruxZir Solid Zirconia was first introduced as a durable, more esthetic alternative to posterior metal occlusal PFMs or cast gold restorations. Since its release, full-contour zirconia has become a vital component of restorative dentistry and the BruxZir Shaded formulation has been adopted widely for use throughout the mouth due to its improved translucency and color similar to natural dentition. More than 18 million restorations have been fabricated from BruxZir Solid Zirconia, making it the leading dental zirconia brand in the U.S.
Since the original BruxZir Solid Zirconia came out in 2009, Glidewell Dental has launched several line extensions to maximize clinical versatility, including BruxZir HT 2.0 (2010), BruxZir Shaded (2012), BruxZir Shaded 16 (2013) and BruxZir Anterior (2015). The new manufacturer-direct pricing reduces costs for dental labs by as much as 46 percent.
"It's been 10 years since we first launched BruxZir, and we've been humbled by its swift adoption in the dental industry and the many success stories shared with us by labs that have embraced the material," said Christy Flesvig, director of sales and marketing at Glidewell Direct. "The goal of our new manufacturer-direct distribution model is to pass the cost savings on to our lab friends and colleagues. When dentists ask for BruxZir, they want to know they are getting the real thing. We are confident that our new pricing can give labs a boost by significantly lowering the cost of offering the zirconia that doctors know, trust, and request by name."
For more information on the new pricing for BruxZir Milling Blanks, contact Glidewell Direct customer support at 888-303-3975. The new pricing is also available at glidewelldirect.com, where labs can conveniently place and track orders, view the latest product information, and access clinical studies.
About Glidewell Dental
Glidewell Dental is among the world's largest providers of custom restorative services and is recognized as an industry-leading materials and devices manufacturer. Established in 1970 in Orange County, California, Glidewell Dental continues to build on its storied history of technological innovation, continuing education and a commitment to making comprehensive, high-quality treatment more accessible to patients in the U.S. and internationally. For more information, visit glidewelldental.com.
*Clinicians Report® is an independent, nonprofit, dental education and product testing foundation, Clinicians Report®, November, 2018. For the full report, visit BruxZir.com/8-year.
Media Contact:
Eldon Thompson, Sr. Director of Marketing
Glidewell Dental
mail@glidewelldental.com
Source: Glidewell Direct
---
Categories: Healthcare, Dentistry
Tags: bruxzir, bruxzir milling blanks, bruxzir solid zirconia, Christy Flesvig, Clinicians Report, full-contour zirconia, glidewell dental, glidewell direct, glidewell laboratories, in-office dentistry, irvine, Stephenie Goddard
---