Glass Art Center Lights Up Lives - Montgomery County's Celebration Art Glass Thinks Being a Good Neighbor Is Key
Press Release
•
Jul 6, 2016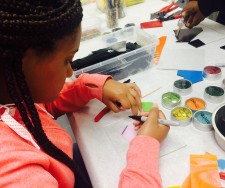 Rockville, MD, July 6, 2016 (Newswire.com) - The glass studios at Celebration Art Glass were awash with color and filled with the chatter of teenage girls as they worked on their fused glass bowls. But while it seemed like just another day in this Rockville glass center, which can average as many as two thousand or more students per year in its fused and stained glass classes, this class had a special place in the Celebration Art Glass team's hearts. "When we were approached to provide free glass classes for Montgomery County teens in a program for 'at risk' students we jumped at the chance. Serving the community – being a good neighbor – is a fundamental part of who are," according to Celebration founder Missy Loewe. Marilou Legge, an instructor at Celebration agrees. "Bringing the arts to kids can open a door to lifelong creativity – not just artistically but in terms of how they problem solve and deal with challenges. I loved watching these young people in these classes learn to try something new, gain confidence and frankly, just have some fun. And I love being part of an organization that puts their 'good neighbor' philosophy into action."
Working with the teens was just the latest in Celebration's outreach to the community. During Montgomery County's Martin Luther King Junior Day of Service, the team, under the auspices of Washington ArtWorks, provided materials and coaching to dozens of volunteers who assembled more than 200 glass sun catchers for residents of local low income group homes, including nursing homes and veterans' facilities. Virginia's Fenwick Foundation partnered with Washington ArtWorks to deliver the works of art, and recently recognized Washington ArtWorks with the Fenwick Award for community service for the MLK event and other programs.
"When we were approached to provide free glass classes for Montgomery County teens in a program for 'at risk' students we jumped at the chance. Serving the community - being a good neighbor - is a fundamental part of who are."

Missy Loewe, Owner
Celebration Art Glass is located near Rockville's Twinbrook Metro Station at 12276 Wilkins Avenue. For information on classes or community events and programs, see www.celebrationartglass.com.
Source: Celebration Art Glass
Related Media
Additional Links