Gladstone Welcomes New Trustee Nicholas J. Simon
Simon takes on a central role in shaping Gladstone's future
Press Release
-
updated: Jul 27, 2017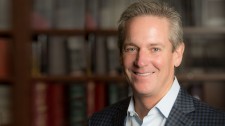 SAN FRANCISCO, Calif., July 27, 2017 (Newswire.com) - The Gladstone Institutes is pleased to announce the appointment of Nicholas "Nick" J. Simon as its newest trustee. Simon replaces founding trustee Richard D. Jones, who stepped down in June after serving the institution since its very beginning.
Simon is a longtime supporter of Gladstone. In 2004, he joined the Advisory Council to help raise awareness and funds to advance the mission of science overcoming disease. He became a Gladstone Foundation board member in 2011 and worked, among other things, to bolster the institution's intellectual property efforts.
"I have always been passionate about converting academic research findings into medical applications, which is why I got involved in translational research initiatives at Gladstone," said Simon. "I am honored to join this outstanding team of trustees, and I look forward to collaborating with the entire Gladstone community to ensure it remains a world-renowned research organization."
Simon is a co-founder and managing director of Clarus, a leading global investment firm dedicated to life sciences. Over the past 30 years, he gained significant operating and investment experience in the biopharmaceutical industry, and held leadership positions at Genentech and the healthcare venture capital firm MPM Capital.
Simon is currently a member of the Board of Directors of Gritstone Oncology, Lycera Corporation, Nuvelution Pharma and Sientra. He has also served as a board member for numerous other private and public life science companies, including Achillion, Avanir Pharmaceuticals, Barrier Therapeutics, Biovitrum AB, CoTherix, InterMune, Pearl Therapeutics, Quatrx Pharmaceuticals, Rigel, and Sangstat.
"Nick's commitment has helped us pursue innovative projects that support the development of our institution," said Gladstone Trustee William S. Price. "His business and investment experience will continue to provide us with valuable insight, particularly for applying our science to medicine."
"Nick has been an esteemed advisor to the trustees for the past several years," added Trustee Andrew S. Garb. "We will undoubtedly benefit from his deep knowledge of the challenges we face and the opportunities ahead." 
The role of the three trustees is to strategically guide Gladstone to ensure its financial strength and to foster innovation, talent, and entrepreneurship. Simon is the seventh trustee in Gladstone's 38-year history.
"Gladstone is thriving today in large measure because of the overall wisdom and financial sagacity of previous trustees," said Gladstone President R. Sanders Williams, MD. "Nick is superbly qualified to extend this great tradition, and to invigorate our organization with fresh perspectives."
About the Gladstone Institutes
To ensure our work does the greatest good, the Gladstone Institutes focuses on conditions with profound medical, economic, and social impact—unsolved diseases. Gladstone is an independent, nonprofit life science research organization that uses visionary science and technology to overcome disease. It has an academic affiliation with the University of California, San Francisco.
Source: Gladstone Institutes
Share:
---
Categories: Sciences
Tags: Gladstone Institutes, Leadership, Nicholas Nick J. Simon, Trustees
---