Gladstein Law Firm Offering Free Ride With Uber or Lyft for the Kentucky Derby
Press Release
•
May 2, 2023
Stay Safe and Enjoy the Kentucky Derby Weekend with Our Rideshare Reimbursement Program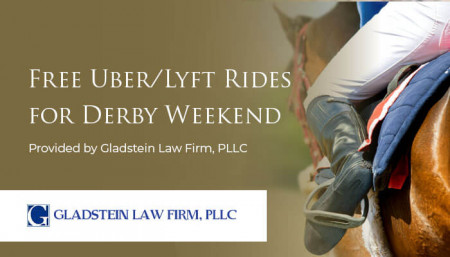 LOUISVILLE, Ky., May 2, 2023 (Newswire.com) - To help reduce the risk of DUI in the community of Louisville, Gladstein Law Firm, PLLC is proud to announce a Kentucky Derby free ride program. Whether Derby fans are going out to the Derby itself or simply watching it from their favorite local bar, Gladstein Law Firm wants to keep Louisville and its residents safe.
Derby Weekend Accident Statistics
It comes as no surprise that large events like the Kentucky Derby lead to an increase in crashes. According to Kentucky State Police, there were 137 crashes in Louisville alone during Derby Weekend in 2022. Almost a third of those collisions involved an injury or fatality, and nearly 13% were caused by drunk driving. This implies that a lot of the accidents in Louisville last year during the Kentucky Derby could've been prevented if people had chosen to take a rideshare or taxi home instead of driving.
How the Kentucky Derby Free Ride Program Works
Getting a free ride for the Kentucky Derby is simple — if fans have been drinking, they can simply take a taxi or rideshare during the Derby Weekend to a safe destination. Gladstein Law Firm will then reimburse them for it.
Fans can request a reimbursement by submitting a copy of their receipt and photo ID to the following mailing address:
Gladstein Law Firm, PLLC
2000 Warrington Way #170A
Louisville, KY 40222
Submissions usually fill up fast, so make sure submit the reimbursement as soon as possible. Only the first 60 submissions will be accepted. In addition, the following rules and regulations apply:
Rides must start and end in the Louisville area;
Only rides taken between Friday, May 5 and Sunday, May 7, are valid;
Riders must be 21 years of age or older to qualify;
Reimbursement is valid for a single one-way ride;
Limit one reimbursement per household; and
Maximum value of reimbursement is $25 including a 10% tip.
For questions about the Kentucky Derby free ride program, contact Gladstein Law Firm, PLLC for more information.
About Gladstein Law Firm:
Founded by Attorney Seth Gladstein in March 2011, Gladstein Law Firm focuses on helping those with personal injuries due to auto accidents, medical malpractice, and more. Seth received his JD from Chicago-Kent School of Law in 2001 and spent much of his early career practicing law for a distinguished medical malpractice defense firm in New York City and one of Kentucky's largest defense firms. His years spent defending against medical malpractice claims give him tremendous insight into handling complex cases against hospitals, physicians, and nursing homes. Since then, Seth has recovered millions for those injured by another's negligence.
To schedule a free consultation, give Gladstein Law Firm, PLLC a call at 502-791-9000.
Source: Gladstein Law Firm, PLLC