GK9PG is the First Company Certified by the TSA to Provide CCSF-K9 Services.
Press Release
•
updated: Jun 26, 2019
On December 7, the TSA approved Global K9 Protection Group (GK9PG) as the first Certified Cargo Screening Facility - K9 Provider.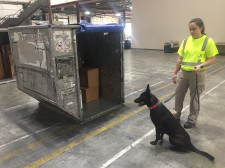 OPELIKA, Ala., December 13, 2018 (Newswire.com) - ​On November 27, 2018, the TSA opened the application period for companies to submit their application to become a CCSF-K9 provider. GK9PG received notification on Dec. 7 that its Operational Implementation Plan (OIP) met all of the program requirements. With this Letter of Approval, the company's CCSF-K9 Teams that have successfully completed the required Third-Party Certification will begin operations for GK9PG's established clients immediately.
Based on the recommendations of the 9/11 Commission 100% of everything that travels on a passenger aircraft inside the United States must be screened. This is not a new requirement. However, more recent changes to the International Civil Aviation Organization (ICAO) security standards removes the distinction between passenger and cargo operations. This shifts the screening requirement to all cargo transported via commercial air transportation. As a result, Homeland Security and the TSA have established the Third-Party Canine Screening or 3PK9 program to create and monitor Certified Cargo Screening Facility - K9 (CCSF-K9). Under this program, private sector canine companies will be able to provide TSA certified cargo screening canine teams to assist in meeting these new requirements.
3PK9 Teams are 3rd party or private sector explosive detection canine teams (EDC Teams). Each team is comprised of one canine handler and one assigned canine that must pass an annual TSA certification. 3PK9 Teams conduct cargo screening under 49 CFR part 1549. 3PK9 teams perform cargo screening operations as CCSF-K9s once they have been certified by TSA approved certifying organization.
The commercial aviation and air cargo industry continue to face the threat of explosive attacks by rogue individuals and extremist groups. Couple this with the rapid growth of ecommerce the challenge of screening every package becomes exponentially harder. "We want a more effective way of doing it, and we think dogs do a heck of a job. It's going to change decision-making on whether or not to spend millions of dollars on machines that don't do the job as well as we'd like them to," said Stephen Alterman, President of The Cargo Airlines Association.
Global K9 Protection Group is a data-driven organization that leverages lessons learn and continuous improvement to ensure we are delivering the highest quality K9 services in the industry. Altering industry norms by embracing digital transformation and developing innovative technologies to enhance the effectiveness of explosive detection canine teams.
Media Contact: Christopher Daniels | Phone: (251) 510-4909 | email: cdaniels@gk9pg.com
Source: Global K9 Protection Group
Related Media
Additional Links