Giving Back Has Never Been So Adorable - Trendy Little Sweethearts Launches New Animal Rescue Collection
Press Release
•
Oct 3, 2016
Storybook Boutique Designer Brandy Heyde Montague releases first handmade collection of eco-friendly shirts focused on helping animals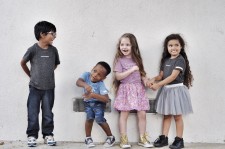 Los Angeles, CA, October 3, 2016 (Newswire.com) - ​​​​​​​​​The popular online children's boutique, Trendy Little Sweethearts, is set to launch its first collection of original designs by owner, Brandy Heyde Montague. The new Animal Rescue Collection is a charming assortment of delightful, quirky, hand-drawn animals printed on soft, high-quality, eco-friendly shirts.
The boutique is well-known for characters Max & Maddie, who embark on simple adventures in the clothes from Brandy's collections. After years of successfully curating from designers in Los Angeles and Tokyo, Brandy has decided to create her own designer children's clothing line, blending fashion with giving back. With her latest collection, she has amazingly married her passion for animals with her talent for graphic design, in one adorable line of new products.
"This shirt is easily the most practical item in my son's wardrobe, it spreads a good message, and it donates money to help"

Brandy Heyde Montague, Owner & Designer, Trendy Little Sweethearts
Each purchase from the Animal Rescue Collection provides a donation to organizations that save whales, protect elephants or provide rescue services for dogs in need. Support for each animal is expressed on hand-printed shirts, and each purchase is accompanied with an activity for adults and children to learn together about the animal they are helping. Brandy has seamlessly connected children's fashion with a sense of social consciousness, and in a way that adults and children alike can give back. Combining all of these things is a tall order for any designer, yet she has flawlessly delivered on her ambitious mission.
The new collection is set to feature 10 original pieces with designs ranging from simple, hand-lettered sayings to cute little poems about the daily life of each animal. They will be available in vintage-inspired hues of charcoal, violet, and blue, making it easy to mix-and-match, and to find a color and design that fits any child perfectly. Made in the USA and hand-printed in Los Angeles, these comfy shirts are the perfect blend of organic cotton, recycled polyester, and rayon. They have a relaxed, airy feel and actually grow softer with each wash.
"This shirt is easily the most practical item in my son's wardrobe, it spreads a good message, and it donates money to help. For this, I'm so excited to launch this new line to the public," says owner and designer, Brandy Heyde Montague. The initial sample run of the new line has already been met with rave reviews. Customers said things like "I am so impressed with the design and quality of this shirt! I've had a hard time getting my 3 year old to wear anything else! He's in love with it!"
This new line will likely become a fashion favorite for parents and children alike. The cheeky designs appeal to a child's natural love of our little animal friends. Whether it's playtime, snack time or simply "me" time, the durable, yet baby-soft fabric provides high-end comfort. For parents, these irresistible shirts solve the age-old problem "What will my child wear today?" The simple design coordinates with almost any of the favorite pieces from their wardrobe, and it's easily layered to seamlessly glide through each season change.
About Brandy Heyde Montague:
Able to leap across Los Angeles in a single bound (ok, she uses the carpool lane, but still), Brandy understands her customer better than anyone. She is her customer - a mom, always on the go, running between her daughter's dance class to her weekly mastermind and networking groups (most of the time with her 18-month-old son in tow). She wants her life to be as straight-forward as possible. Her goal is to give parents the gift of uncomplicated clothing for their little ones; to give children something they will love to wear; and to give both a way to experience a socially-conscious life together.
Source: Trendy Little Sweethearts
Related Media