Give an Hour Offers Free Mental Health Services to Those Affected by the Tennessee Tornadoes
Press Release
-
updated: Mar 5, 2020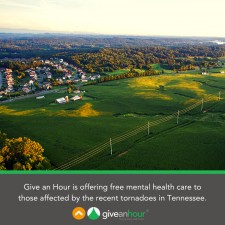 WASHINGTON, March 5, 2020 (Newswire.com) - As our nation is once again faced with a devastating natural disaster in Nashville, Tennessee, Give an Hour® is stepping up to provide free mental health services to those experiencing trauma and loss, through its network of volunteer mental health providers.
Give an Hour has historically opened its network of licensed professionals to assist those affected by natural disasters - Hurricanes Sandy, Harvey, Maria and the fires in California, as well as man-made disasters - the shootings at Sandy Hook elementary school, the Boston Marathon bombings, Las Vegas, the Pulse Nightclub and the Borderline community.
The trauma of losing one's home, friends and loved ones can give rise to severe anxiety and depression. And the long period of rebuilding perpetuates people's feelings of uncertainty, chronic stress and loss of control. Give an Hour has the expertise to help those in need now and in the future, as people go about rebuilding their lives and their communities.
"We are committed to supporting the citizens of Nashville, and all those who are suffering. For those whose lives have been forever changed, Give an Hour providers can provide pro-bono mental health support for as long as it takes," said Randy Phelps, PhD., CEO of Give an Hour. "We also want to invite other licensed mental health providers to join our efforts. We all have gifts to give to those who are hurting."
Give an Hour, a national nonprofit, was founded in 2005 to provide pro-bono mental health services to veterans, military and their loved ones. Give an Hour licensed mental health provider network has exceeded 300,000 hours of free care, valued at over $30 million.   
If you are a licensed mental health provider, please join our network. If you would like to support our work so that we can continue to provide invaluable mental health services, please consider a donation. www.giveanhour.org
Give an Hour has been rated a 4-star charity by Charity Navigator.  
https://www.charitynavigator.org/index.cfm?bay=search.summary&orgid=17415
About Give an Hour®
Founded in 2005 by psychologist Dr. Barbara Van Dahlen, Give an Hour's mission is to develop networks of skill-based volunteer professionals capable of responding to both acute and chronic conditions prevalent within society, with the primary mission to provide free mental health services to U.S. service members, veterans, and their families. In 2015, Give an Hour expanded efforts to address the mental health needs of other populations including those affected by natural and man-made disasters. Thus far, the U.S. network of 4,500 licensed mental health professionals has provided more than 300,000 hours of care and support to those in need. 
Press Contact
Sally Charney
Director of Marketing and Special Partnerships, Give an Hour
Source: Give an Hour
Share:
---
Categories: Non Profit
Tags: counseling, first responders, mental health, nonprofit, public health, recovery, survivors, Tennessee, tornadoes
---