Gina Contella Joins KeyMe's Expanding Team
Press Release
•
updated: Feb 19, 2020
With Rapid Growth on the Horizon, KeyMe Adds a New Strategic Leader to the Team in a People Position to Steer Employee Initiatives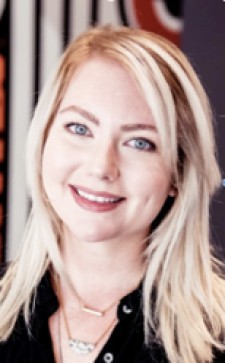 NEW YORK, February 19, 2020 (Newswire.com) - ​​KeyMe, the fastest-growing company reinventing the $12 billion locksmith service industry with advanced robotics and AI technology, announces that Gina Contella has been appointed Vice President of People. This newly created role reflects the company's rapidly expanding business and KeyMe's desire to ensure employees are at the centerfold of growth while enriching the workplace environment.
Gina Contella will report to Greg Marsh, KeyMe's founder and CEO.
"Our team is the single most important factor for the pace and magnitude of our success," says Greg Marsh. "As Vice President of People, Gina will play an integral role in aligning our people and business strategy, ensuring that our community shares KeyMe's values and vision for developing a forward-thinking brand that is reinventing an essential industry."
In this new position, Gina will oversee talent acquisition and development efforts, culture and employee engagement as well as human resource operations. KeyMe has an aggressive growth trajectory of 50+ new hires in 2020 as the company scales toward 10,000 kiosks nationwide. Gina will build out a top-tier recruiting function to ensure KeyMe has the right people in place to get it to the next level. This will allow hiring managers to focus in their specific domains of expertise and, ultimately, improve efficiency company-wide.
Prior to joining KeyMe, Gina spent five years building the people function from inception at Reverb.com, an online marketplace for new and used musical instruments, and grew the company from 30 domestic employees to 200 globally. She was instrumental in keeping the culture through an acquisition by Etsy for $275 million in 2019.
To learn more about KeyMe, visit www.key.me.
About KeyMe: KeyMe is reinventing the $12 billion locksmith services industry with advanced robotics and AI, building the world's most trusted brand in "access solutions." The company's network of self-service kiosks is located in thousands of retail locations across the country supporting duplication of brass keys as well as sophisticated electronic keys such as RFID and vehicle transponder keys. Additionally, KeyMe Locksmiths offer customers a one-stop solution for all their locksmith needs ranging from lockouts and re-keys to complex installations and custom jobs.
KeyMe is growing rapidly and has raised over $150 million from top-tier investors including Battery Ventures, BlackRock, Brentwood, Comcast Ventures, Questmark Partners, Ravin Gandhi, RiverPark, and White Star Capital.
Press Contacts:
Maggie Fitzgerald, Maggie@hatchedpr.com
Christina Zamarripa, Christina@hatchedpr.com
Source: KeyMe