Gigastone Urges Customers to Be on the Lookout for Fake Products and Confirms Its Entire Range of iOS Flash Drives Are Apple MFi Approved
Press Release
•
updated: Nov 4, 2016
In the flurry of press vis-à-vis fake Apple products rampant online, Gigastone reaffirms entire range of iOS flash drives are MFi approved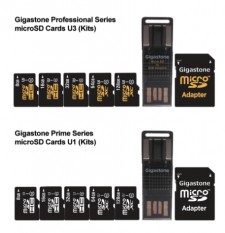 Los Angeles, CA, November 4, 2016 (Newswire.com) - Gigastone, the Leading Global Mobile Technology Accessory Brand announced today; that in light of the recent torrent of press, relating to Apple claims regarding counterfeit Apple products, it feels it is important to reiterate that its entire range of iOS Flash Drive and Flash Drive Reader products, are Apple MFi Approved. Gigastone wants to assist customers with strategies to prevent purchasing fake substandard products.
In much the same way customers are being duped into purchasing Apple products that are not the real thing, many other leading brands are suffering the same fate. For example, those same customers are being duped into believing that certain products that bear the MFi logo and appear to be Apple approved, are in actual fact cheap reproductions. Apple has a stringent program whereby manufacturers of Apple mobile technology accessories, can submit their products and receive the coveted "Made for iDevices", MFi approval. The process maintains that certified Apple accessories bearing the MFi mark, meet the high standards required to be associated with the high quality authentic Apple products.
Harold Katz, Gigastone Chief Marketing Officer commented, "Many mobile technology accessories available online, claiming to be MFi approved, are not and don't meet the exacting standards required for MFi approval." He went on to elaborate, "Companies like Gigastone expend huge effort, ensuring that its products are of a high quality and meet and exceed industry standards. Maintaining these standards can make it more difficult for quality conscious suppliers, like Gigastone, to effectively compete in some situations. The end result is that the real loser is the customer, who is left with a sub standard product that many times does not work."
Gigastone urges all customers to take the time to investigate the authenticity of products prior to their purchases;
Visit the suppliers site to ensure that the product in question exists.
Ask the supplier for referral to authorized vendors.
Google the product and review the results for signs of questionable suppliers.
Search product reviews for customers that have suffered at the hands of dubious suppliers.
If the price of the same product varies greatly when searching on Google Shopping, it is more likely that the cheaper products may be fake.
Be aware that large Online Retailers list both their own product lines as well as 3rd party vendor products, not necessarily authenticated by the site being visited.
Ask the seller if the product is authentic and if the approval marks it bears are genuine.
This is a global issue across all product lines and Gigastone urges customers to make a stand, in an effort to ensure that products offered by suppliers are authentic.
Gigastone distributes a full range of memory products as well as mobile technology accessories, including the Gigastone iOS Flash Drives. The iFlashdrives come in a number of configurations to meet the needs of the Apple iPhone and iPad users. The Gigastone iFlashDrive software allows users to:
Backup iPhone data from your device to the external memory of the Gigastone iPhone Flash Drives.
Backup can be done automatically. (Photos/Contacts/Calendar)
iCloud, Google Drive, Dropbox and Facebook Album data can be moved to the external Gigastone IOs Flash Drive.
The data is secured by Touch ID Security and/or Encryption.
All photos, movies and data is accessible from the iPhone or iPad without having to move the data from the external iOS Flash Drive to a iDevice.
The Gigastone iOS Flash Drives have both Lightning and USB adapters or removable MicroSD cards, so backed up data can easily be moved to any computer without the need for the iDevice.
Data can also be copied from a computer to the iOS Flash Drive and accessed from an iPhone or iPad.
The full Gigastone i-FlashDrive range can be viewed on the Gigastone Web Site.
About Gigastone
Gigastone is the leading global mobile accessory brand, specializing in state-of-the-art, high-end mobile peripherals and technology. For two decades, Gigastone has been distributing technology to all the major big-box and Electronic Commerce stores. Gigastone has leveraged its engineering, manufacturing and quality control skills to drive world-class production and deliver quality products. A uniquely positioned company, poised to continue to grow and maintain its leadership in the fast paced consumer electronics space.
Gigastone currently has eight major offices around the globe; USA, Canada, Taiwan, Japan, Korea, France, Brazil and China, with distributors in Asia, the Americas, and Europe. Notable distributors include Walmart, Costco, Target, Best Buy, Amazon, Guo Mei, JD.com, E-Mart and The Source. Gigastone continues to launch world-class mobile peripherals, constantly diversifying its product range to meet consumer demand. Customer focus is the key to ongoing Gigastone global success.
Source: Gigastone
Related Media