GiftsbyMeeta Introduces Gifts Delivery in 6 Hours in Delhi NCR
Press Release
•
updated: Mar 29, 2017
There exists a large number of the customer base who loves to make their gift shopping in the last hours and they are in dire need of delivery within hours. Thanks to our global delivery network and strong financial support which helped us to finally launch the home delivery gifts in Delhi NCR within 6 hours.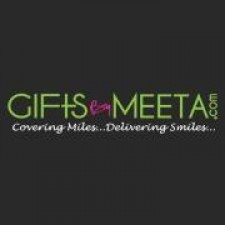 New Delhi, India, March 29, 2017 (Newswire.com) - With the growing demand for same day delivery beyond the cakes that most of the gifting players offer, GiftsbyMeeta has come up with something to tackle this last hour hurry for the folks. Not just cakes but flowers and plenty of ready made gifts have been made available with same day gifts delivery in Delhi NCR within 6 hours. Although the personalized gifts are yet to be added under this umbrella, with this move the gifting firm is anticipating acquiring a huge chunk of last minute customers.
Generally, the online order of gifts is delivered on the next day basis due to the fact that whatever the product is being displayed on the website actually don't remain stored in the warehouses of the sellers. The procurement is only made once they have received the order that usually takes time and this is the general model most of the online gifting service providers following. So along these lines, they have two options either make pre-procurement of all the products which have been displayed on the website or improve the procurement model to ensure the availability of the product at the warehouse in earliest possible time. The first case requires more money, risk and space availability while another one requires resources like more vehicles, more people in the logistic team and more efficient logistic support. The hundreds of outlets, global delivery network, and strong financial support helped GiftsbyMeeta to introduce this new vertical of services.
Talking about this newly introduced service the business manager at GiftsbyMeeta in New Delhi explained:
"We have long been desired to introduce the home delivery of gifts in few hours and finally we achieved it. Many people perhaps love to do their things in last hours and for a range of occasions such as their friends' birthday, wedding, anniversary or any festival, they forget to make early shopping. GiftsbyMeeta, years of experienced online gifting firm wanted to serve those last minute gifting needs of that huge number of customers. So we started working on this model and finally the customers from across the Delhi and NCR region can get the ensured home delivery of gifts to their doorstep within 6 hours. The team at our outlets spreading across Delhi helps us to ensure timely procurement and delivery from the nearest hub of the customers."
To avail this quick delivery facility customer will not have to pay any extra charges on flowers and cakes but they will be charged moderately for except these two categories.
GiftsbyMeeta is a leading online gifts company for almost every gifting stuff you need for all age group people and with a global delivery network. Apart from same delivery of flowers and cakes in more than 300 cities in India, the company has started 6 hours delivery of gifts In Delhi NCR rather only flowers and cakes. Besides of occasion specific presents and relation-centric gifts, GiftsbyMeeta offers location-centric gifts. In addition, there is a gigantic scope of personalized presents all at the exceptionally competitive price with free shipment. The range of inventive, suitable and trendy products with worldwide delivery network make this firm distinguished from other players.
Source: GiftsByMeeta