Gifting Brands Joins Fashion Impact Fund for #FASHIONGIVES Campaign on GivingTuesday
Press Release
•
Nov 17, 2022
Leveraging Fashion for the Greater Good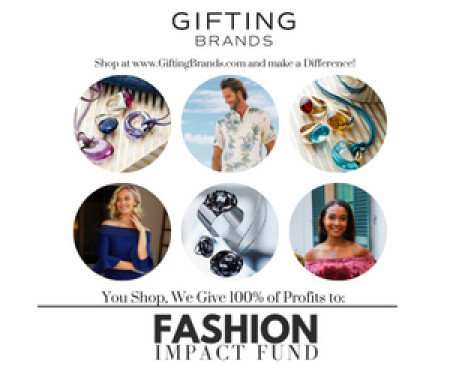 DALLAS, November 17, 2022 (Newswire.com) - A pioneering new way to shop by combining philanthropy with luxury and designer brands online, Gifting Brands is joining the Fashion Impact Fund to support the #FASHIONGIVES campaign as part of the global GivingTuesday movement on Nov. 29.
Gifting Brands' founder and CEO Jeannie Barsam left the corporate world in 2016 after executive roles in Fortune 500 retailers, including Gap Inc., Michaels, Talbot's and Signet Jewelers. Inspired to create more than just a fashion business, Gifting Brands was born out of a passion for helping women, children and families in need with an innovative solution to an ongoing problem in the fashion world—excess inventory.
Brands partner with Gifting Brands to donate inventory, consumers shop, and proceeds go directly to causes that empower and support women and children.
Barsam said partnering with Fashion Impact Fund and the #FASHIONGIVES campaign was another opportunity to live out the organization's mission and continue to drive a positive impact.
"While Gifting Brands may seem like a regular e-commerce website, our mission is to give all of the profits from our sales to charity. We use fashion as a force for good—and team up with nonprofits to make our world better," said Barsam. "Partnering with the #FASHIONGIVES was the perfect fit for us."
#FASHIONGIVES supports the Fashion Impact Fund's mission to provide grants to female founders, leading sustainable solutions in fashion. Women's Philanthropy Institute found that only 1.9% of charitable giving in the U.S. goes to women's and girls' organizations. #FASHIONGIVES is committed to empowering female founders that are transforming fashion as a force for good.
"GivingTuesday inspires people all around the world to embrace their power to drive progress around the causes they care about, not just on one day but throughout the year," said Asha Curran, GivingTuesday's CEO, and co-founder. "With country and community leaders, millions of organizations, and countless givers of all kinds, GivingTuesday is creating a shared space where we can see the radical implications of a more generous world."
Since Gifting Brands' launch in 2020, the organization has raised over $80,000 for nonprofits focused on supporting women and children through clean water, education, housing and safety from domestic violence and trafficking.
Gifting Brands has also partnered with Market.Live to create a new live show called "Giving Tuesday Live" with the purpose of giving charities, brands, and consumers a platform to come together to make an impact and raise money for charities that are making a difference in the world.
"Knowing that your purchases help others in need is a special way of shopping. It's like superfood for your soul," said Barsam. "GivingTuesday is a way to start helping others through sustainable and charitable shopping."
Visit the website at www.giftingbrands.com to learn more.
Source: Gifting Brands
Tags