GhostBed, the Online Mattress Company With 20,000 Reviews, Launches an Exclusive 15% Off Discount to All Military
Press Release
-
updated: Jan 29, 2019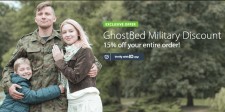 PLANTATION, Fla., January 29, 2019 (Newswire.com) - ​GhostBed, the online mattress company by Nature's Sleep, is honoring those who are serving, and have served, by offering a 15-percent off military discount on their entire orders. The GhostBed Military Program is available for active duty, retirees, veterans, military spouses and military family members. 
Sleep does not come easy to those serving the front lines, as well as those keeping the home fires burning. GhostBed is recognizing the sacrifices for all who have signed on to protect the nation, as well as those of their loved ones.
Every Day is Veteran's Day with GhostBed 15-Percent Military Discount
The mission of GhostBed is to provide the ultimate in sleep comfort to promote a healthy and restful slumber. Every day is Veteran's Day at GhostBed with the company's wish to extend the soothing comfort of their mattresses and bedding at a special price in thanks to the men and women who serve, or have served, in the United States military.
The GhostBed 15% Military Discount applies to all mattresses, bed frames & bedding:
o   Our top selling memory & latex Mattress - The GhostBed - crafted to provide optimal balance for comfort and long-term support.
o   Our luxury Mattress - the GhostBed Luxe - designed for the best in cooling comfort and supreme support.
o   Our new hybrid Mattress - GhostBed Flex – hybrid engineered with plush comfort of gel memory foam with reinforced individually wrapped coils for supportive soothing with cooling.
o   Our additional product line, which includes - the GhostBed Adjustable Base, Foundation, GhostPillow, GhostBed luxury sheet set & the GhostProtector.
GhostBed has earned a reputation for engineering premium beds and products crafted to promote the healthiest of a restful sleep. The company's mattresses, pillow, and adjustable base are to be compared to pricier competitors, but with budget friendly prices.
Marc Werner, GhostBed CEO and Founder, is proud to offer the wonderful GhostBed products for a special price to honor military:
"We believe this is a way to include our entire community in changing lives of veterans. As the grandson of a Lieutenant Colonel who served in World Wars I and II and the son of a U.S. Army veteran who served in the Korean War, I have made showing appreciation to all veterans one of GhostBed's Core Values."
With a special discount from GhostBed, much-needed sleep relief will be discovered for military members, veterans, and family members without worrying about a high cost.
About GhostBed
GhostBed is made in America by Nature's Sleep, a mattress industry leader for more than 15 years. The company focuses on high-quality, low-cost sleep products with expert craftsmanship and superior materials designed for comfort and durability – as well as crafted to meet each and every one of their customers' needs. After three neck surgeries, GhostBed CEO, Marc Werner, knew what it was like to live and sleep in constant pain. When he was unable to find a comfortable pillow and mattress to support his neck and back, Werner decided to invent his own. Realizing the nightmare of the mattress buying experience - with the abundance of choices and less-than-helpful salespeople - Werner founded GhostBed as a more efficient, and more beneficial, means of mattress shopping. GhostBed skips the showroom altogether and goes direct to consumer with mattress and adjustable base options at a great price, with the convenience of purchasing right from your home.
Source: GhostBed
---
Categories: Retail
Tags: GhostBed, GhostBed Mattress, Mattress Online, Military, Military Deals, Veterans
---