GHGSat Awards Contract to Spire for New Satellites
Press Release
•
Aug 8, 2023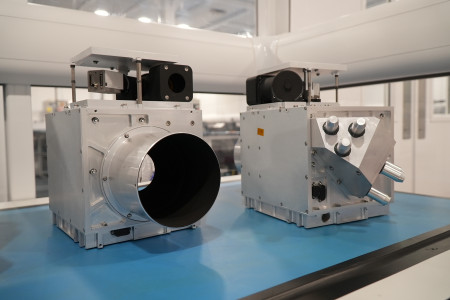 MONTREAL, August 8, 2023 (Newswire.com) - GHGSat, the global leader in high-resolution greenhouse gas monitoring from space, has awarded a contract to Spire Global, a space-based data, analytics and space services provider headquartered in Vienna, Virginia, to build, launch, and operate four new satellites, each carrying GHGSat payloads. These satellites will be built at Spire's facility in Glasgow, UK.
"GHGSat provides the best emissions intelligence in the world," said Stephane Germain, CEO of GHGSat. "By expanding our satellite services agreement with Spire, we can continue to focus on performance for our customers rather than on satellite manufacturing and operations."
GHGSat's ambition is to provide daily monitoring of greenhouse gas emissions from every industrial source in the world and to enable an ecosystem of initiatives and applications to better understand, control, and mitigate those emissions. GHGSat is already performing millions of facility-level measurements per year using its own satellites, providing actionable emissions intelligence for industrial operators, governments, and financial services. This new contract expands GHGSat's measurement capacity and is just one of a series of announcements in the coming months reinforcing GHGSat's leadership in global emissions monitoring.
The data collected by the new payloads will be used to monitor emissions from carbon-intensive industries such as oil and gas, coal mining, waste management and agriculture. GHGSat's services are critical to detect methane leaks, quantify emissions inventories, support mitigation strategies, and help operators achieve their net-zero targets.
This new contract builds upon GHGSat's current space services agreement with Spire for three satellites carrying GHGSat payloads that will be launched before the end of this year. The contract demonstrates GHGSat's continuing and growing commitment to the UK and is directly related to a recently announced initiative by the UK Space Agency, Satellite Applications Catapult and GHGSat to accelerate climate innovation in the UK.
"Our Space as a Service model is designed to support the rapid pace at which our customers are growing, allowing companies like GHGSat to focus on their mission and services, while we deploy their payload into space safely, quickly and in a cost-effective manner," said Frank Frulio, general manager and global head of Space Services, Spire. "We are proud to expand our partnership with GHGSat as they scale their constellation to bring transparency to the global issue of greenhouse gas emissions."
Source: GHGSat