GHGSat Achieves Breakthrough in Offshore Emissions Measurement From Space
Press Release
•
Sep 22, 2022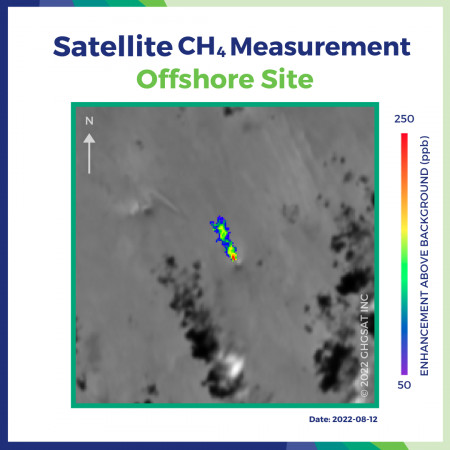 MONTREAL, September 22, 2022 (Newswire.com) - GHGSat, the global leader in methane emissions monitoring from space, has detected the smallest offshore methane emission ever seen from space. The emission was observed at an oil and gas platform in the Gulf of Mexico off the coast of Louisiana on Aug, 13, 2022, and measured at approximately 1,500 kg/hr.
GHGSat's satellite measurement follows an international study into the feasibility of using satellites to measure emissions from energy-production facilities at sea. Initial research was conducted with a series of controlled releases but August's observation was of a fugitive methane emission from an offshore oil and gas platform (Figure 1).
Thirty percent of global oil and gas production takes place offshore. While methane levels on rigs are routinely monitored for safety reasons, via in-situ sensors or drones, there is currently no standardized, independent means of measuring methane emissions at these facilities.
GHGSat's patented infrared sensor detects the "signature" of methane in the atmosphere in the way the gas absorbs sunlight bouncing back from the Earth's surface. Since water absorbs sunlight in the infrared spectrum, GHGSat tasks its satellites to perform off-shore measurements at larger viewing angles, targeting the area where the sun's light reflects most strongly off the sea surface — the "glint spot." While this technique has been previously demonstrated by other satellites, GHGSat has now successfully demonstrated the potential for satellites to monitor methane emissions from thousands of offshore production platforms around the world.
The record-low detection achieved in August is significant. Previous satellite observations have only captured extremely large methane emission events. In December 2021, a facility in the Gulf of Mexico was observed releasing methane at an average rate of 99,000 kg/hour [ref]. In August 2022, emissions were detected from the same platform, with similar peak rates.
Noteworthy as these "ultra-emitters" are, they are also comparatively rare. GHGSat's ability to measure far smaller emissions from offshore facilities, allied to its fast-growing constellation, means it can monitor for more emission events, more frequently. This will benefit energy producers, who will have better operational intelligence to work with and help improve the accuracy of global methane inventories.
Stephane Germain, CEO of GHGSat, said, "Our team is the proven global leader in monitoring facility-level methane emissions from space and providing emissions intelligence to customers worldwide. We routinely detect and quantify methane emissions from many different types of onshore industrial sites. Now, we have proven that our technology can monitor offshore sites."
About GHGSat
GHGSat uses its own satellites and aircraft sensors to measure greenhouse gas emissions directly from industrial sites, providing actionable insights to businesses, governments, and regulators. With proprietary remote-sensing and patented technology, GHGSat enables strategic decision-making through monitoring and analytics services, with better accuracy, more frequently, and at a fraction of the cost of other technologies. www.ghgsat.com
Source: GHGSat
Tags