Getting the Local Treatment: The Inn at Riverwalk Keeps It Close to Home
It's precisely because choices have consequences that The Inn at Riverwalk owner, Kathy Treat, made the decision to work with a team of local professionals for a massive three-month, $3million hotel renovation project near Vail, Colorado.
Press Release
-
updated: Feb 14, 2018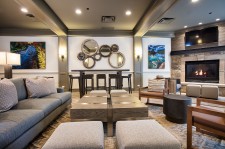 EDWARDS, Colo., February 13, 2018 (Newswire.com) - When Kathy Treat, owner of The Inn at Riverwalk, sat down with Matt Tabor, General Manager, and John Evans, Asset Manager for Evans Hospitality, to discuss plans for the remodel of her beloved 20-year-old hotel, she was open to all the possibilities that could transform it, except for one: all the vendors working on the property had to be local if possible.
The Inn at Riverwalk is the cornerstone property at The Riverwalk at Edwards, a mixed-use outdoor shopping, dining and entertainment enclave; it's also Edwards' only hotel. Treat insisted the work had to be done right and be done by locals.
"I wouldn't consider doing it any other way. We have so much talent right here in the Vail Valley, why would I go elsewhere?" Treat said. "The energy on the project was so invigorating. We all felt this amazing synergy; everyone was invested in the process and in achieving the best result."​
According to Treat, the objective of the top-to-bottom renovation was to "Create a space where people can come together to relax, be comfortable and enjoy the beauty of the mountains." Treat added, "Based on feedback, I believe we've achieved that. Our guests tell us they're thrilled about everything from the new lobby to the guest rooms to the Gear Garage, and the fact that we welcome dogs with down-filled beds of their own. We put our heart and soul into this project and it shows. I couldn't be more grateful for the process and the results."
"This renovation was all about adapting to a traveler's ever-changing needs. Who better to bring on this project to help us identify those needs than teams of locals who know the ins and outs of the Vail Valley?" Tabor said. "We also had the opportunity to take a closer look at what we can do to minimize our impact on the environment. The team that we assembled really took our concern to heart and we made plenty of decisions based on energy and water conservation."
​For vendors who worked on the project, passion also spills over into off-the-job pursuits and is a big part of the reason they have chosen to reside in the resort community. "The Vail Valley is a great place to live and work," Jill Coyle, who relocated to teach snowboarding before joining the team at Hill Aevium, said. "There are sacrifices that come with living in the proximity of a world-famous resort town—it's expensive, for example—but most of us wouldn't have it any other way. We work hard, we play hard." As in situ experts on the Vail Valley, each vendor has a distinctive viewpoint—local tips—which they were more than happy to share along with insider details about working on The Inn at Riverwalk.
Local talent makes all the difference.
Evans Hospitality. Founder and president of the Edwards-based hotel and resort consulting firm, John Evans acted as an owner's representative on the project, bringing the team together and helping to lead the charge forward. "Great relationships are the foundation for getting things done. For example, our architect and contractors already had an existing relationship, so when a problem arose on site, they could figure it out quickly," Evans said. The project had a tight timeline, from Labor Day to Christmas, to complete a comprehensive renovation.
Treat credits Evans for building a top-notch team. "From the supervisors who were on the job every day to the people who were doing really hard work, like laying carpet or working on the walls, there was an attitude of positivity that was infectious. Everyone had tremendous pride in what they were doing," Treat said.
"The Inn at Riverwalk has been completely transformed. It doesn't feel like the same place at all. It went from being out-of-date to an upscale, boutique property in a matter of weeks. It's amazing to me all that we were able to accomplish in such a short period of time, and I credit that to using all-local vendors," Evans said.
John's Local Tip: Take your dog and get outdoors! Go for a walk along Eagle Creek, just east of June Creek Elementary on Miller Ranch Open Space.
​
​Evans Chaffee Construction Group. A key player in completing the work on time was Evans Chaffee's co-owner Andy Halminski, who brought a vast background of experience and expertise in strategic planning, project leadership skills and overall business operations to the project. "To me it just makes sense to hire locally," Halminski said. "Construction and scheduling are already a challenge. We have a great labor pool with a lot of talent that we were able to utilize right here in our valley. These are the same guys that drive by The Inn at Riverwalk every day and there is a sense of pride that accompanies work done close to home. It's not just a job they come and do. In a small valley, these kinds of projects become a visual resume for them."
Tabor concurs and points to Evan's Chaffee's Elliott Montgomery, construction superintendent for the job: "Elliott was always on-site and fully committed to the tight schedule; he was responsive to our needs and dedicated to delivering flawless workmanship."
Andy's Local Tip: Don't trust anyone in the roundabouts!    
Associates 3 Interior Design. Senior designer Angie Warren echoes other project vendors. "The Inn at Riverwalk was a standout project for me because it was all about the personal connections and synergy that we experienced as a team," Warren said. "We'd collaborate, problem solve together and find a solution. It always comes down to people." Warren worked closely with Treat to create a palette-cleansing visual aesthetic that incorporated fresh, modern, warm, comfortable and durable design choices.
"The creativity that went into the renovation was amazing. We went from a hotel that needed a lot of attention to a completely transformed space. The new vibe is inviting and inspiring," Treat said.
"We were able to create the 'wow' factor for guests as they walk in the entrance. We used natural materials and added spark through art—including some of the owner's personal pieces—the result is an invitation to unwind and be comfortable," Warren said. Among her favorite spaces is the hotel's lobby which incorporates the original stone fireplace. Warren chose to add weathered horizontal slats of barn wood above the hearth, simultaneously modernizing and enhancing the ambiance of the gathering area. "The feeling when you enter the lobby is a sense of warmth and welcome," she said.​
Angie's local tip: After a day of skiing at Beaver Creek, grab a coffee at the Broken Arrow. It's a low-key place to après.
​Zehren & Associates. Longtime local David Kaselak was the architect on the project. It was his task to collaborate with the interior design firm Associates 3, city and county agencies, as well as with the owner and owner's representative to ensure the property was on target to meet not only its design goals and aspirations, but also that it complied current building codes.
"As a local, I'm more likely to tell my friends and family about The Inn at Riverwalk because I worked on the project," Kaselak said. "My relatives have stayed there prior to the renovation and had a great experience. I'll recommend it even more highly now because I know the property, the owners, the owner's rep and the Inn's staff. When you know the people, it becomes personal."​
David's local tip: Hike up Berry Creek Trail a little way; in a matter of minutes you can be the master of your domain!
Hill Aevium Brand Evolution. Hill Aevium Brand Evolution is a marketing, advertising and branding firm that's been in the Vail Valley for 30 years. Jill Coyle, account manager at Hill Aevium, couldn't agree more with Kaselak. "We're a small business in the valley and like other businesses in the area, we rely on and support each other," Coyle said. "Choosing local talent is a core value for The Inn at Riverwalk and Hill Aevium. By working together as a team, we were able to take a hotel that was already a staple of the valley but felt a little old-school, refresh it, and bring it up to today's upscale standards. The Inn at Riverwalk has a new look, feel and identity that will last for the next 20 years."​
Jill's local tip: Come for the off-season. The restaurants put on specials, the town is quieter which makes it easier to navigate and you really get the local's vibe.
Brent Bingham Photography. Building on the new visual appeal and creating a portfolio of high-quality imagery for The Inn at Riverwalk to use in its advertising and marketing, were local shutterbugs Brent Bingham and his wife Barbara. Their work as in-demand photographers has them frequently jetting to locations all over the country—most recently to Harlem, New York and Key Largo, Florida. "Often the perception is that you have to go outside the valley; it's just not the case," Brent Bingham said. "When you work locally with other professionals who are also residents, you find that work load decreases and productivity increases. That's a direct benefit for the client." When asked for his favorite shot of The Inn at Riverwalk, Bingham named two sets of images: those of the lobby because of the upscale, contemporary feel of the space, and the photos of the entrance doors swinging open. "Both of those shots have great lighting and show off the Inn's new look."​
Brent's local tip. Come for the summers! As an avid cyclist Brent recommends Bachelor Gulch for a quick, hard, steep and very satisfying ride.
Monte Sign Design and Awnings. Helping guests navigate The Inn at Riverwalk, Monte Park created all of the wayfinding, including the interior and exterior signage. "It was great to work with a company that is in our back yard," Park said. "I'm proud of the fact that we were able to help the hotel better represent themselves through more prominent signage, improved line-of-sight, visibility and greater attention to their new logo and branding. With its new positioning, The Inn at Riverwalk will be top-of-mind for both visitors and locals."​
Monte's Local Tip: Ride Iron Mask on a powder day!
A special tribute to one long-time local
​Kathy Treat calls the remodel of The Inn at Riverwalk a tribute to her late husband, Sandy Treat, a long-time builder and developer in the Vail Valley. His businesses Summit Habitats and Treat Development built hundreds of homes in Edwards, Singletree and Beaver Creek. "The Inn at Riverwalk was one of Sandy's favorite places," Treat said. "In undertaking this renovation, I was inspired by his vision and creativity which were with me every step of the way throughout the whole process. It makes me happy because he wouldn't have done anything differently. I'm proud to have achieved this for him. Now that the project is complete, I will miss it. But moving forward I'll continue to fine tune the details and make improvements."​
Kathy's local's tip: Let the mountains be your guide. ​
Because local matters ​
As far as Kathy Treat is concerned, staying local made all the difference for The Inn at Riverwalk's successful renovation—a project finished on time and on budget with superior quality of workmanship and a sense of pride and job satisfaction for everyone involved. "I wouldn't do it any other way," she reiterated.
Source: The Inn at Riverwalk
Share:
---
Categories: Travel, Transportation, and Hospitality News, Accommodations and Lodging, Personal Travel, Vacations and Travel
Tags: Colorado, Colorado accommodations, Colorado hotel, Colorado lodging, Edwards
---
Related Files
Additional Links