Gesture Helps Non Profit Charity Partners Raise Over $100 Million in 2015
Mobile bidding technology company expands into new markets to assist more nonprofits raise more funds.
Press Release
-
updated: Jan 6, 2016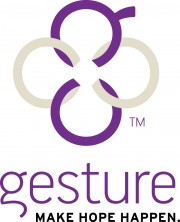 Chicago, January 6, 2016 (Newswire.com) - ​Gesture, a Chicagoland technology company, celebrates helping non profit charity partners across the country raise over $100 million in 2015.  Since 2011, Gesture has worked with more than 2,000 charitable organizations raising over $225 million through use of a unique,  innovative fundraising technology platform, expert advance planning and on site team working in real time to maximize fundraising efforts.  
Gesture is a technology company with a mission to enable donors to give more to their favorite charities through the use of mobile technology. Gesture initially focused on mobile silent auctions but has expanded offering additional tools that help charity partners increase their potential fundraising capabilities and in turn have a larger impact supporting each organization's charitable mission. Gesture is ready to partner and serve non profit organizations in 21 new markets during 2016.
"Our goal is to make hope happen and we are energized by helping our charity partners raise over $100 million in 2015," said Jim Alvarez, founder and CEO of Gesture. "We hope to raise $1 billion for our charity partners over the next few years. To help us reach our goals, we've added many new team members and are expanding into new markets as we continue to embrace technology and assist non profits of all sizes and causes to raise more revenue through their fundraising activities," adds Alvarez.
Gesture welcomes two new board members, Stan Greanias and Martin Coyne, to the team. Mr. Greanias is a former CEO of Sara Lee Coffee where he managed a $1.5B budget and was responsible for 4,000 employees.  Early in Mr. Coyne's career, he worked in the White House, reporting directly to First Lady Nancy Reagan. He has spent the last 23 years of his career at Global Ronald McDonald House Charities with the last seven years as CEO of the global entity. Mr. Coyne was responsible for $2B in assets, 40,000 volunteers, and 360 local chapters worldwide.
"We are honored to add our new board members and the wealth of experience and knowledge they offer us as we aim to grow and provide more charity partners with opportunity to increase much needed revenue to support a multitude of charitable organizations nationwide," shared Alvarez.
Gesture welcomes the opportunity to serve non profits of all categories and sizes and includes many nationwide charities. To contact Gesture, go to www.gesture.com.
Gesture is a technology company based in the Chicagoland area that helps non-profit organizations raise more money through a unique technology platform. In business since 2011, Gesture has raised over $225 million for their charity partners and has ran over 3,000 events. Founded by Jim Alvarez, Gesture employs over 50 full-time staff members in their Westmont office, as well as representatives across the country. In 2015, Gesture reached a major milestone by raising over $100 million in a single year.
Share:
---
Categories: Non Profit, Charitable Contributions, Business
Tags: Charity Fundraising, Charity Technology, Chicago, Expansion, Fundraising, Mobile Technology, Non-Profit, Technology
---