Gerling Law Injury Attorneys' 'Go With Safety' Program Offering Free Rides for Memorial Day Weekend
Press Release
•
May 23, 2023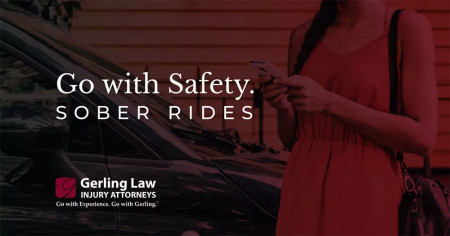 EVANSVILLE, Ind., May 23, 2023 (Newswire.com) - If individuals plan on celebrating this Memorial Day by drinking alcohol, the attorneys at Gerling Law are offering a safe way home for them. This year, the Go With Safety program will help pay for a sober ride home for those going out for the holiday. The purpose of this event is to help curb drunk driving and keep local communities safe, whether those celebrating need a free ride in Evansville or a free ride in Owensboro.
Drunk Driving Statistics
Both Indiana and Kentucky have issues with drunk driving. According to a fact book released by Indiana University's Public Policy Institute, drunk driving fatalities made up nearly 14% of all accident deaths in the state during 2020. In addition, 26% of drivers involved in fatal collisions had high BAC and were impaired.
The statistics aren't much better for Kentucky. In fact, the Kentucky Transportation Center found that the number of deaths on state roads involving alcohol on holidays jumped more than 100% from 2020 to 2021. In total, there were more than 50 people killed in crashes during holidays in 2021, and 21 of those crashes involved a drunk driver. There were also more than 900 crashes that resulted in injuries during holidays.
How to Get a Memorial Day Free Ride
Gerling Law believes that it is important to get home safely during the holidays. The amount of damage that losing a loved one does to a family is immeasurable, so the firm wants to make it easy to make the right decision.
To participate in the program, those celebrating just need to take a ride beginning or ending in Owensboro, KY, or Evansville, IN. This ride can be taken with a rideshare or taxi. After paying for the ride, individuals will need to take a screenshot of their receipt and ID, then email it to the email listed on the page linked below. It is best to include a full name and mailing address in the body of the email. Gerling Law will then reimburse the cost of the ride up to $30. For more information, including rules and regulations, please visit www.gerlinglaw.com/sober-rides/.
About Gerling Law Injury Attorneys:
Founded 60 years ago, Gerling Law is a premier law firm serving personal injury victims in Indiana, Illinois, and Kentucky. With over $500 million recovered for clients in the tri-state area, Gerling Law uses a people-first approach. By fiercely advocating for clients and giving back to the community, the firm passionately helps improve the lives of individuals and families. Gerling Law's attorneys have received recognition from Best Lawyers and even an AV Preeminent rating from Martindale-Hubbell for professional excellence. This dedication can be seen in every case that Gerling Law takes on.
Injured due to another's negligence? Visit our website to schedule a free case review.
Source: Gerling Law Injury Attorneys