Georgia's Scientology Church Opens on Bright Shiny Day for Spirit of Freedom
Press Release
•
Apr 3, 2016
With a commitment to fight drugs, crime and human rights abuse, the Church's spiritual technology is welcomed by Southern hospitality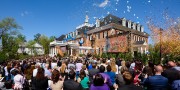 Atlanta, Georgia, April 3, 2016 (Newswire.com) - ​​​Like a phoenix rising, Atlanta is a city of amazing triumphs—and the latest herald of the city's "we can do it" is the April 2, 2016, opening of the Scientology Ideal Church.
"This is Scientology for a new American South," said David Miscavige, the ecclesiastical leader of Scientology and the Chairman of the Board of the Religious Technology Center. "And so whereafter that ribbon falls for Atlanta and she in turn rises up, should anyone ask to what is Atlanta rising, you can truthfully say: she's rising to eternity!"
"...yours is a city of enduring inspiration, a city of grace and magic, a city where even oaks and magnolias possess souls; and a city of remembrance that also foretells of the future."

David Miscavige, Ecclesiastical leader of Scientology
"Today honors a tale of Ideal Org creation that epitomizes Ideal Org spirit," Mr. Miscavige said just before cutting a giant ribbon that officially opened the Atlanta Ideal Church of Scientology Organization.
"It's all the more inspiring," he said, "for the fact yours is a city of enduring inspiration, a city of grace and magic, a city where even oaks and magnolias possess souls; and a city of remembrance that also foretells of the future."
Mr. Miscavige's speech evoked the deep history of Georgia, a state stained by the bloodshed of war and hatred, yet equally glorified by an abiding dedication to the emancipation of human bodies, minds and souls. Atlanta, Georgia's capital—indeed the commercial hub of the New South—arose like the phoenix, reconstituting itself many times, reaching higher and higher to lift up its citizens.
Here, in the most recent decades, was the birthplace of a human rights crusade that transformed America and astonished the world. Here was forged Atlanta's motto: "Resurgens," denoting a city rising proud, strong and free, undeterred by adversity. And here was crafted a beloved proverb about Atlantans: It's a city too busy to embrace hatred.
And here now, in 2016, is another testament to the liberties that are the birthrights of all women and men: The Scientology Ideal Church of Atlanta. "Ideal" was the standard set by Scientology Founder L. Ron Hubbard so that every church could be a perfect expression of the religion's principles and practices.
The new home of the Church is located in the Atlanta metropolitan area and the City of Sandy Springs, atop a rise overlooking the bustling Roswell Road. The 45,000-square-foot Williamsburg-style mansion speaks "Southern charm" and welcomes all from Atlanta and beyond.
Joining the Church's opening celebration were 1,500 Atlanta Scientologists, plus those from along the Eastern Seaboard. Also attending were leading voices of the Atlanta community who welcomed the Church to its new home: Pamela Perkins Carn, Executive Coordinator for the Interfaith Children's Movement of Atlanta; Mr. Orlando Johnson, Director of the Agape Community Education and Resource Center; the Rev. Dr. James Milner, Founder and Executive Director of Community Concerns Inc.; and Georgia State Senator Donzella James.
Rev. Milner recalled to the crowd that he "had the pleasure of marching with Dr. Martin Luther King right here on the streets of Atlanta. We were fighting oppression. … Drugs are the almighty oppressor today. They cause people to lose their humanity." Referring to the Scientology-supported drug education initiative, the reverend said: "We use the materials, our counselors use them, and with the Drug-Free World program in use, drug abuse has dropped."
"Your contribution to put this Church here is most certainly a great investment for a stable society," Rev. Milner emphasized.
Mr. Johnson of the Agape Center spoke about L. Ron Hubbard's The Way to Happiness, a non-religious guide for ethics and morality. "We deal with addicts, we deal with felons and those wishing to start life anew. It's a tough crowd, but after a person goes through a The Way to Happiness class at our center, I see the message stays with them."
"What we are dedicating today is a greater purpose, an assignment to transform tomorrow for the better," Mr. Johnson said. "So let's walk together on the way to true freedom. And let's thank L. Ron Hubbard for his blueprint for living."
Pamela Carn of the Interfaith Children's Movement had an appeal to salvage the next generation from crime and drugs. "I've always had a vision in my work to be able to sit down at a table with fellow brothers and sisters who share a passion for humanity," she said. "And that is the unique thing about Scientology—you're not 'apart from.' No, between your advocacy work and the basic tenets of the Church, you are all about building."
And, Senator James spoke of the loss of her sister at the hands of psychiatry. "There was nobody on our side … until you came to the halls of our state capitol with Citizens Commission on Human Rights and the Psychiatry: Industry of Death exhibit.
"Since that time," Senator James said, "we have partnered to bring this information. … We have introduced legislation to attack the root of the problem, and this new Church is a place for us to reach out from, to keep spreading the word."
In conclusion, Senator James reflected: "To talk of the significance of this day one must say a word on that man amongst men—Mr. L. Ron Hubbard. He was before his time, during his time, and is still most relevant at this time. So in his name, and with this grand christening today, may our Georgia never be the same."
_________________
The new Atlanta Ideal Org provides visitors with an introduction to Dianetics and Scientology, beginning with the Public Information Center. Its displays, containing more than 500 films, present the beliefs and practices of the Scientology religion and the life and legacy of Founder L. Ron Hubbard.
The Information Center also offers a detailed overview of the many Scientology-supported humanitarian programs. These include a worldwide human rights education initiative; a far-reaching drug education, prevention and rehabilitation program; a global network of literacy and learning centers; and the Scientology Volunteer Ministers program, now representing the world's largest independent relief force.
Atlanta's Ideal Org also features a chapel that provides for Scientology congregational gatherings, including Sunday services, weddings and naming ceremonies, as well as a host of community wide events open to members of all denominations. The Ideal Org further includes multiple seminar rooms and classrooms, in addition to an entire floor dedicated to Scientology auditing (spiritual counseling).
The Atlanta opening continues an explosive growth period for the Church in the past 12 months. And more is on the way, with openings in the coming year planned for cultural epicenters in Australia, New Zealand, Europe and North America.
Related Media
Additional Links