Georgia Launches Intelligent Technology to Improve Breast Exam Accuracy
First in Nation to Upgrade Breast Exam Standards
Press Release
-
updated: Oct 17, 2018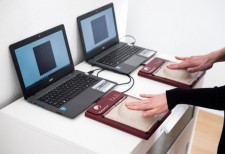 GAINESVILLE, Fla., October 17, 2018 (Newswire.com) - Women in Georgia will benefit from the breast exam training program developed by MammaCareⓇ scientists with the support of the National Science Foundation. The team of scientists identified the specific breast exam skills required for early detection of small suspicious tumors while reducing false positives. They produced a hands-on, computer-guided simulator technology that validates the performance of these critical skills. In cooperation with the Georgia Department of Public Health Breast and Cervical Cancer Program (BCCP), the MammaCare system will train nurses in each of Georgia's 159 counties. The training technology is in use by the Women Veterans Health Program and by US colleges of nursing and medicine. Georgia's DPH is the first BCCP to deploy the training system statewide.
Although nurses and physicians routinely examine women's breasts for suspicious lesions or tumors, performance and results vary widely. Mary Ann Mehn, Ph.D., MammaCare's Director of Education, said that Georgia DPH staff public health nurses are now being trained and certified to deploy the system throughout Georgia's BCCP. Mark Kane Goldstein, Ph.D., MammaCare Senior Scientist explained: "The MammaCare Clinical Breast Exam Simulator-Trainer standardizes critical performance skills with a series of "intelligent" breast models that measure exam accuracy and provide corrective feedback in real time." "If performance on any one of the breast exam modules does not meet built-in standards of sensitivity, specificity, and thoroughness, the program requires the user to repeat the module before moving on to the next one," Goldstein added.
MammaCare, the recognized standard for clinical and personal breast exams, began in 1974 as a National Cancer Institute project to determine the smallest palpable breast tumor that is reliably detectable by hand. MammaCare training technology and certification courses are available at http://mammacare.org.
Contact
Mary Ann Mehn, Ph.D.,
training@mammacare.org
Mark Kane Goldstein, Ph.D.
markgoldstein@mammacare.org
Cell: 352.256.4573
Office: 352.375.0607
Source: The MammaCare Foundation
Share:
---
Categories: Healthcare, Medicine and Healthcare
Tags: breast cancer, breast exam, breast exam training, Georgia, MammaCare
---