George Washington Autographed Letter to Be Sold at Auction
Press Release
•
updated: May 3, 2017
Letter from George Washington to Dr. Samuel Stringer, New York, 15 May 1776: In the hand of Robert H. Harrison, signed by Washington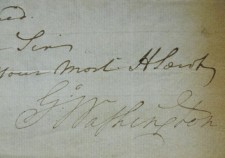 PLYMOUTH, Mass., May 3, 2017 (Newswire.com) - J. James Auctioneers & Appraisers will sell at public auction a letter signed by one of our nation's Founding Fathers, First U.S. President and Commander-in-Chief of the Continental Army George Washington. The letter, which hung on the wall of a Concord, Massachusetts home for generations, accompanies 260-plus lots of art, antiques and memorabilia to be sold to the highest bidder on May 20, 2017 at Plymouth Memorial Hall, 83 Court St., Plymouth, MA. Preview hours will open at 11:00 a.m. The auction will commence at 1:00 p.m. (EST). Admission to the event is free and open to the general public.
This letter highlights the multiple problems facing General Washington at this time — the condition of American forces in Canada, the perennial lack of supplies, and bickering within the ranks.
"Sir, I received your Letter of the 10 Inst [ant] last night by Mr. Bennet, and this morning transmitted to Congress a Copy of it & of the Estimate for their order & direction on the subject of it, so far as relates to the Seniors, mates &c. As to the Medicines, when Doctor Morgan arrives, I shall direct him to send you immediately such a Supply as can be spared. I am Sir, your Most H[umble] Servant. G Washington"
Dr. Samuel Stringer, appointed by Congress as Director of the Hospital in Albany, served in General Philip Shuler's Army of the Northern Department as Chief Physician and Surgeon. Doctor Robert Morgan, Director General of the Medical Department of the Continental Army, was engaged in an ongoing dispute with Dr. Stringer over his jurisdiction within the Department. Stringer's request, referred to a Congressional Committee on 16 May, was ultimately declined.
J. James Auctioneers & Appraisers is a professional antiques and estate auction house located at 84 Court Street in historic Plymouth, Massachusetts. They conduct Art & Antique Auctions, Specialty Auctions, Charitable and Benefit events. To learn more, visit www.JJamesAuctions.com, or call 508-746-8608.
###
Source: J. James Auctioneers & Appraisers
Related Media