GenX Capital Partners, Titan Funding Close $7.25M for Newport Beach Club Refinance
Both South Florida firms underwrote the equity for the $10.25M acquisition back in August 2018 and today successfully refinanced out the investors and senior position, giving the sponsor more flexibility moving forward.
Press Release
-
updated: Apr 17, 2019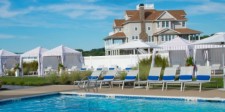 MIAMI, April 17, 2019 (Newswire.com) - Back in August of 2018, Velocity NBC, LLC undertook what many thought was a daunting task and acquired the troubled Newport Beach Club in Portsmouth, Rhode Island. GenX Capital Partners Managing Director, Mark McClure, had brought the asset to the attention of Maine real estate developer Patrick Tinsman, seeing immense potential for a development that had the hallmark of a home run if bought right, coupled with a developer that had vision and to see the plan through. Tinsman agreed, went under contract and, after a thorough due diligence phase, GenX Capital Partners, along with Titan Funding, underwrote the equity needed and closed on the $10.25M acquisition.
Since then, Tinsman has steadied the ship, so to speak, by putting in the needed infrastructure, revamping the sales team, adding additional lots near the first-class clubhouse, generating significant sales, and he has essentially put the Newport Beach Club on a trajectory to become one of the premier oceanfront developments in the eastern United States. Additionally, he came back to GenX and Titan to refinance the capital stack to give him more breathing room from an interest rate and lot paydown split structure, so as to maximize the coming summer sales cycle and increase overall profitability.
"John Mansour and Titan Funding were instrumental in helping us underwrite this very, very complex deal and getting us to the closing table faster than anyone anticipated," Mark McClure stated. "Tinsman now has the financing and structure needed to blow this development right out of the water and truly maximize its full potential," McClure ended.
To learn more about GenX Capital Partners direct lending platform or about its real estate investment banking services, go to www.GenXLending.com and www.GenXCP.com respectively.
Source: GenX Capital Partners
Share:
---
Categories: Real Estate
Tags: GenX Capital Partners, Mark McClure, real estate equity, real estate financing, real estate private equity
---