Gentlemen Don't Stand by in the Face of Human Trafficking
Press Release
•
updated: Sep 13, 2018
Florida youth learn a vital lesson from the grandson of jazz legend BB King.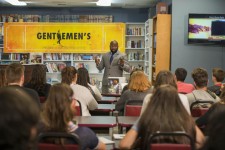 TAMPA, Fla., September 13, 2018 (Newswire.com) - ​​Christopher King is a man with a mission—to put an end to human trafficking.
When King learned that the state of Florida ranks third for human trafficking of youth age 12 to 18 he knew he had to take this on. "Being a father of two beautiful children, I would truly not like for my children to be victims of such things, so I began to learn and research," he says. "We found that nobody really knows about the issue or wanted to bring it to light."
Introduced to United for Human Rights in 2015, King, the grandson of blues legend BB King, incorporated its human rights education into his nonprofit, The Gentlemen's Course, which educates youth age 12 to 18 on attire, etiquette and human rights and raises awareness of human trafficking.
The motto of The Gentlemen's Course is "We change our youth, they change the future."
"In my eyes, etiquette is a foundation for better living," he said on a TV interview in April. "Knowing your human rights adds to that foundation by showing you the ability to love and take care of other people as well as protect yourself. So I think they go hand in hand because knowledge is power."
The course is appropriate for any youngster, but especially for survivors of human trafficking and underserved youth in danger of becoming victims. King's "Thirty Simple Rules to being a Gentlemen" include "Judge no one, just improve yourself" and "Ignorance isn't bliss; knowledge is power."
"I truly felt if people can teach racism and evil, we can teach greatness and humanity," says King. "With incorporating human rights into our curriculum, we are hoping to educate youth with the proper tools to make better decisions as they mature and grow in today's society."
King delivers his Gentlemen's Course program at a space set aside for him by the city of Tampa at the Kings Forest Recreation Center and in schools and libraries throughout Central Florida.
In June, King held his Gentlemen's Ball at the Church of Scientology's Fort Harrison retreat, which he organizes twice annually to raise funds for nonprofits dedicated to fighting human trafficking and providing opportunities for youth, such as the Florida Coalition Against Human Trafficking, She Helps to Empower Foundation and Master of Achievement, Leadership and Excellence, Inc.
One month later, King brought his message to the United Nations where he was a guest speaker at the 15th annual Human Rights Summit organized by Youth for Human Rights International.
The next The Gentlemen's Ball will take place at the Fort Harrison on January 19, 2019.
The Church of Scientology and Scientologists support United for Human Rights, the world's largest nongovernmental human rights education campaign, reaching out in 195 countries in 27 languages and embraced by more than 2,000 activists, officials, groups and organizations. Their support of the initiative is inspired by humanitarian and Scientology Founder L. Ron Hubbard's conviction that "It is vital that all thinking men urge upon their governments sweeping reforms in the field of human rights."
For more information on Christopher King and his program, visit The Gentlemen's Course Facebook page. For more information on his human rights curriculum, visit the website of United for Human Rights.
Source: Scientologynews.org
Related Media