General Motors Extends Altia Software and Engineering Services to Deploy Digital Cockpit Displays for All Electric Chevy Silverado EV
Press Release
•
Nov 29, 2022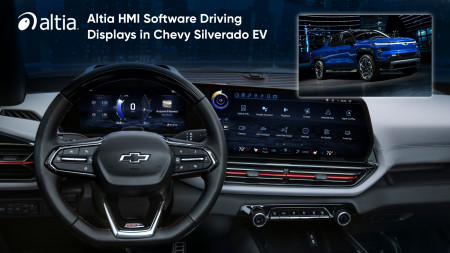 COLORADO SPRINGS, Colo., November 29, 2022 (Newswire.com) - Altia previously announced General Motors' use of Altia to design and deploy the massive integrated cockpit experience for the cutting-edge Cadillac LYRIQ. Today, Altia is proud to share that General Motors will continue to leverage Altia's human-machine interface (HMI) solutions for the 2024 Chevy Silverado EV, the brand's ground-breaking fully electric truck.
"Altia is proud of our partnership with GM's Design Team—and we're excited to be a part of their evolution toward an all-electric fleet," stated Mike Juran, Altia CEO. "General Motors is leveraging Altia's software with an inventive approach that enables extensive configurability of their cockpit graphic assets for the LYRIQ, the Silverado EV and beyond. This speaks to GM's commitment to deliver a best-in-class experience for drivers and passengers across all its brands."
The Ultium™ battery-powered truck will be offered with two variations of a gorgeous digital dashboard—the standard 11.0-inch infotainment touchscreen and 8.0-inch digital instrument cluster or the upgraded 17.0-inch infotainment screen and 11.0-inch instrument cluster. Both systems include rich 3D animations and driver-focused screens with intuitive access to a full range of features. These screens are highly reconfigurable to suit the preferences of driver and passenger and can be continually personalized and customized thanks to Ultifi™, GM's end-to-end software platform that will enable over-the-air updates of software-defined features, apps and services to customers. Combined with Super Cruise1, General Motors' hands-free driver assistance technology for compatible roads, GM's brilliant design teams are continuing to build a legacy of innovation.
"Altia enables our design teams to deliver a consistent, top-quality look and feel for our cockpit displays that truly represent the General Motors brand," stated Daryl Carr, Senior Manager, GM User Interface Services. "As we continue to roll out new models in our fleet of electric vehicles, Altia will be a key contributor and solution for these cutting-edge production programs."
Altia's HMI development software—which includes Altia Design, a WYSIWYG graphics editor, and Altia DeepScreen, an automatic code generator—is used by automotive OEMS and Tier 1 suppliers across the world to deliver high-impact, memory-efficient graphical displays for instrument clusters, head-up displays, in-vehicle infotainment systems and full integrated cockpit applications. With powerful features for advanced 3D, multi-language and functional safety, along with a Professional Engineering Services Group that is available to support any and all phases of HMI development, Altia helps companies get first-class HMIs to market efficiently.
1Always pay attention while driving and when using Super Cruise. Do not use a handheld device. Visit https://www.chevrolet.com/electric/super-cruise for full details.
Source: Altia