Gemr Celebrates Batman Day With Launch of User-Created Clubs, Ultimate Collector Giveaway, More
Updates Include Chrome Browser Extension, "Nerdlebrity" Influencers, CollectorCast Podcast, and YouTube Channel Launch
Press Release
-
updated: Sep 22, 2017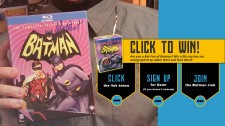 NASHUA, N.H., September 22, 2017 (Newswire.com) - Collector culture is growing at an exponential rate, and online collector hub Gemr (pronounced with a soft "g" because they're a real gem) is quickly emerging as the preferred community for people to collect, connect, discover, expand, and immerse themselves in the things they love. Since their relaunch in March of 2017, Gemr's user base has expanded to over 100,000 collectors with a diverse range of interests, due in large part to an aggressive marketing campaign combined with a bi-monthly site and app updates based primarily off of user feedback. Most recently, Gemr has begun an expansion into officially branded club experiences with the launch of the Loot Anime Club, a partnership between the collecting hub and subscription box service Loot Crate.
In anticipation of the upcoming Batman Day on Sept 23, (with the help of Gemr's Chief Marketing Officer Chris Gore's alter-ego @BatChrisGore) Gemr is hosting a giveaway that even Bruce Wayne would love to get his hands on: A Blu-ray Batman '66 TV series boxed set signed by the original Batman and Robin, Adam West and Burt Ward. All Bat-fans of Batman are eligible to win, provided they click the contest link (below), join Gemr, and join the Batman Club. The lucky winner of what's guaranteed to be the crown jewel of any Batman collection will be announced Monday evening on Gemr, via email, and via Gemr's social media accounts.
Gemr is thrilled to pair the giveaway with the official launch of a new user-created club feature, with the most active being the aforementioned Batman Club. Thanks in part to our favorite caped crusader, platform engagement is growing yet again, as users have the ability to create specific clubs based on their personal collecting niche and curate their own communities within Gemr. CEO Tom Bennett chose to prioritize user-created clubs to fill a void left by the generalized approach to collecting from competitor's sites, as well as the frustration many brands and artists have found in trying to overcome the Facebook algorithm that often necessitates spending a significant amount of money in order to communicate effectively with fans via "boosted" posts. Gemr's user-created and officially branded clubs are a completely free and uncomplicated way for brands, artists, and creators to stay connected with (and sell to) their followers in a meaningful way — a move that has been very well-received by the Gemr community.
"The goal really is to create the ultimate community platform for collectors, brands and influencers," said Bennett. "Traditional social channels are full of noise, lacking in collector specific features and are taking an 'all things to all people' approach, which ends up diluting the experience. We're built from the ground up to solve problems for collectors, influencers and the brands that they know and love. Gemr Clubs provide a platform for very focused communities around a collecting interest and are packed with features. Collectors, influencers and brands are telling us they need and want. With clubs, you create the experience, you control the experience, and you're not paying for access to the audience you work so hard to build."
In addition to the user-created club experience, Gemr has debuted several new features and updates in the past month that have vastly improved and supported the platform experience. They include:
"Gemr: Collect It!" extension available in the Chrome web store that allows users to save webpage images to their Gemr collections in a simple Pinterest-reminiscent click.
"Nerdlebrity" influencers, including custom lightsaber artist Rob Petkau, doll collector Bu Pias, and Star Wars enthusiasts and YouTube celebrities The Cancrizans, who display their collections and interface with fans and fellow collectors on the site and via YouTube.
Gemr CollectorCast podcast on SoundCloud, with host Jeff Tucker tackling a different collector culture each week along with expert guests.
In addition to these new initiatives, Gemr has also recently launched an official YouTube channel featuring original content for collectors, including weekly shows and special documentary-style spotlights on items and collections of note. Additionally, Gemr is also producing a wealth of independent coverage for collector-focused events such as the recent San Diego Comic-Con International, for which they have over 40 videos on the channel.
Gemr is a social community and online marketplace (think Facebook meets eBay) for people who love collecting. Launched in 2015, Gemr provides collectors with all the tools they need to easily pursue their collecting passions online. From antiques to vintage and pop-culture collectibles, Gemr is the premier platform for collectors to share what they love. Visit Gemr at Gemr.com.
Source: Gemr
Share:
---
Categories: Celebrities, Internet and Streaming Media, Social Media, Television Programs, Giveaways, Arts and Entertainment
Tags: batman, batman day, collecting, collector, eBay, Facebook, gemr, giveaway, influencer, social media, star wars, youtube
---