Gebrüder Weiss USA Continues Nationwide Expansion and Opens New Miami Location
Press Release
•
Apr 28, 2023
The global logistics leader increases focus on Latin American, Central American, and Asian trade routes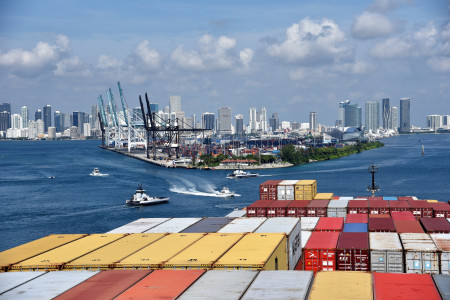 CHICAGO, April 28, 2023 (Newswire.com) - Gebrüder Weiss, an international transport and logistics company, has announced the opening of a new location in Miami, Florida. The office is part of Gebrüder Weiss USA's ongoing nationwide expansion, which includes strategic positioning across the country to support high-volume shipping routes and serve customers' evolving needs. The company identified Miami as a key staging center for its broad international client base.
"As we grow both domestically and globally, Miami is a critical location for our Latin American and Central American customers, and the new office enhances our ability to serve these important markets," said Mark McCullough, CEO of Gebrüder Weiss USA. "Miami also serves as a consolidation gateway for cargo out of Asia as there are few direct routes from the Far East to Latin America."
The office is located at 6303 Blue Lagoon Drive in Miami and will be managed by Marcin Gonzalez, a Gebrüder Weiss USA branch manager with deep knowledge of freight forwarding and Latin/Central American markets. Five additional employees are based in Miami, and the company has plans to continue area-specific growth.
In late 2022, Gebrüder Weiss relocated its USA headquarters from Des Plaines to Wood Dale, Illinois, to obtain additional office space and a 45,000-square-foot warehouse. The company continued its growth with an additional 106,000-square-foot warehouse in Elgin, Illinois. The family-owned company prides itself on anticipating customer needs and industry demands and responding quickly with customized transport and logistics solutions.
For more information about Gebrüder Weiss USA, its services, locations or employment opportunities, please visit www.gw-world.com.
About Gebrüder Weiss
Gebrüder Weiss, a global freight forwarder with a core business of overland transport, air, and sea freight and logistics, is the world's oldest transport company with a history that dates back more than 500 years. The family-owned company employs more than 8,400 people worldwide and boasts 180 company-owned locations. The business presence in North America includes headquarters in Chicago and offices in Atlanta, Boston, Dallas, El Paso, Los Angeles, Miami, New York, San Francisco, Montreal, Toronto, and Vancouver. The company has implemented a wide variety of environmental, economic and social initiatives, and today it is considered a pioneer in sustainable business practices. Customized solutions with a single point of contact provide customers with an exceptional service experience focused on reliable and economical solutions. www.gw-world.com
Source: Gebrüder Weiss