Gathering Mountain Releases 'Meet and Greet Collection'
Press Release
•
updated: Apr 19, 2018
New greeting cards are hand-drawn and designed by two PA artists, include bold colors and a light-hearted attitude.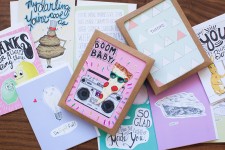 STATE COLLEGE, Pa., April 19, 2018 (Newswire.com) - Laura Mustio and Justin Gruneberg of Gathering Mountain are releasing their brand-new Meet and Greet Collection, featuring creative greeting cards that have been hand-drawn and designed by the duo of accomplished artists. The Meet and Greet Collection will be released on May 1, 2018.
Gathering Mountain is known for giving card lovers and snail mail junkies creative, good-natured, and sometimes cheerfully irreverent greetings so that they can be in touch with those that matter most.
For the first time since their soft opening in September 2017, Mustio and Gruneberg have created an entire product line of soon-to-be fan favorite greetings. The new Meet and Greet Collection is scheduled to go live on May 1.
The collection will be exclusively sold on the website gatheringmountain.com and at select vendor markets local to the State College, PA area.
The greeting cards in the Meet and Greet Collection will introduce Gathering Mountain's personality to new fans and will give them a preview of what to expect from future releases.
Several greetings in the collection feature beloved vintage items like a rotary phone, mix CD, and boom box, in line with the current trend of nostalgia-inducing design.
All cards are printed on 100% recycled, high-quality card stock and all orders are shipped in recyclable or compostable packaging so that shoppers can feel great about every Gathering Mountain purchase.
The new collection also features card bundles and multi-packs that offer additional value.
The Meet and Greet Collection ranges in price from $5.50 for a single card with envelope to $30.00 for select sets of 8 cards with envelopes.
The Gathering Mountain team is excited to welcome new fans to experience this debut line of hand-drawn greeting cards.
For more information about The Meet and Greet Collection, or for an interview with Laura Mustio and Justin Gruneberg, please write to hello@gatheringmountain.com. Media high-res photos available upon request.
Source: Gathering Mountain