GAT Sport Releases a New, Quad-Blend Whey Protein Complex — WHEY MATRIX™
Press Release
•
updated: Jul 12, 2022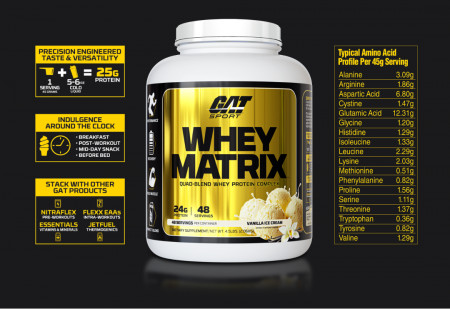 MONROE, Conn., July 12, 2022 (Newswire.com) - GAT Sport is pleased to announce the official global release of its GAT Sport Whey Matrix™, an all-new quad-blend whey protein product precision-engineered for taste, versatility, and a healthier and leaner, more well-toned physique.
GAT Sport President and CEO Charles Moser made the announcement. "We believe that indulgence can be a good thing — especially delicious new GAT Sport Whey Matrix. GAT has over a decade of experience delivering top-quality proteins our customers love. This new whey protein line marks 14 years of highly successful protein products. It's our fifth highly distinct and successful new whey protein product line since 2008. GAT Sport is always reinventing to meet and exceed expectations, and we're proud to offer our global customers these delicious, high-quality products."
This uniquely clean "whey quad-blend" formula provides 25g of protein (*for the Chocolate Ice Cream flavor, and 24 grams for the Vanilla Ice Cream) in a low-fat, mouth-watering formula to indulge in all day long. For a healthier and leaner, more well-toned physique, it's the perfect one-two punch that delivers on rich thickness and mouth-watering tastes.
Whey Matrix is perfect for use in cooking, in smoothies, in shakes, or simply mixed with cold water or milk. It always mixes smoothly, with no clumps or settling. It can be used at breakfast, post-workouts, as a mid-day snack, and before bed.
Plus, GAT Sport Whey Matrix is easily stackable with other GAT products, a feature that GAT customers request and expect. Stack it with Nitraflex® Pre-Workouts, FLEXX EAAs™ Intra-Workouts, GAT Essentials Vitamins & Minerals, and with GAT Jetfuel® thermogenic fat-burners.
About GAT Sport
Charles Moser, President and CEO, has over 20 years' experience in training and supplementation formulation, design and marketing. Under his leadership, GAT Sport creates edgy, forward-looking products that propel athletes worldwide, and the industry. Designing with clinically researched ingredients and university studies, he produces and markets clinically tested, efficaciously dosed formulas that become legendary. Moser is diversifying this highly respected global brand with high-energy workout products and those for repair and recovery after training, plus general health and fitness. He drives TeamGAT to compete harder every day and on every level. Follow Moser on Instagram @GAT_CEO_Charles_Moser.
facebook.com/gatsupplements 223.6k Followers
instagram.com/gatsupplements 184k Followers
twitter.com/gatsportusa 6.8k Followers
These statements have not been evaluated by the Food and Drug Administration. This product is not intended to diagnose, treat, cure or prevent any disease.
Source: GAT Sport